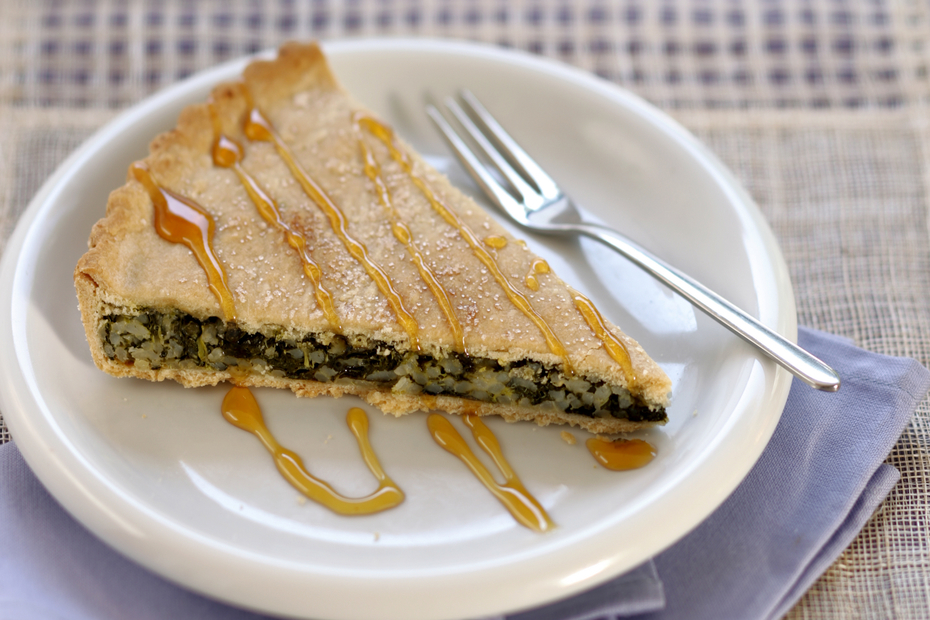 Naxos Sweet Chard Pie / Sefoukloti
---
Sefoukloti is a transliteration of the local Naxos pronunciation for "seskoula," Greek for chard. This is one of the most unusual Greek recipes, a greens pie drizzled with honey. To find real Greek island honey as well as olive oil, go to my online store
here
.
Ingredients
1

kilo

2 lbs. chard (you can use spinach if you can't find)

1

large bunch fennel

1

bunch fresh mint or myronia

chervil

½

cup

extra virgin olive oil

3

scallions

finely chopped

½

cup

long grain rice

½

cup

water

1

scant tsp. cinnamon

For the Filo *

You can use commercial filo for this, too

4 -5

cups

flour

1

cup

fresh strained orange juice

1

cup

extra virgin olive oil

½

tsp.

salt

Or

1 one-pound box frozen whole wheat or country-style phyllo

Sugar and sesame seeds for garnish

1

cup

Greek honey
Instructions
1. Heat ½ cup olive oil and sauté the scallions until soft. Add the greens and herbs and sauté until most liquid is cooked off. Add the water, rice, salt, and cinnamon. Reduce heat and cook until liquid is absorbed.

2. Prepare dough: combine 4 cups flour, salt, juice, and olive oil in the bowl of a food processor outfitted with a dough hook. Process on medium speed until smooth, adding more flour if necessary. Set aside for 30 minutes, wrapped in plastic.

3. Oil a large pan. Preheat oven to 180˚C (350˚F). Divide dough in half and roll out first piece to a sheet a little larger than a large, rectangular baking pan. Roll out the first piece and lay it in the pan. Spread filling on top. Roll out second piece and cover. Roll the edges together decoratively. Brush top of pie with olive oil, score into square serving pieces, and sprinkle with 3 tablespoons sugar and 2 tablespoons sesame seeds. Bake for about 40 minutes, or until golden. Remove from oven and drizzle hot pie with honey.
Love savory pies and phyllo specialties? Sign up for my online class "Fearless Phyllo – Homemade!" to learn the secrets of making great, easy pies at home! 
Notes
Alternatively, use commercial phyllo, placing 6-7 sheets on the bottom and brushing each with olive oi, then placing the filling and covering with 5 more sheets of phyllo, each brushed with olive oil.