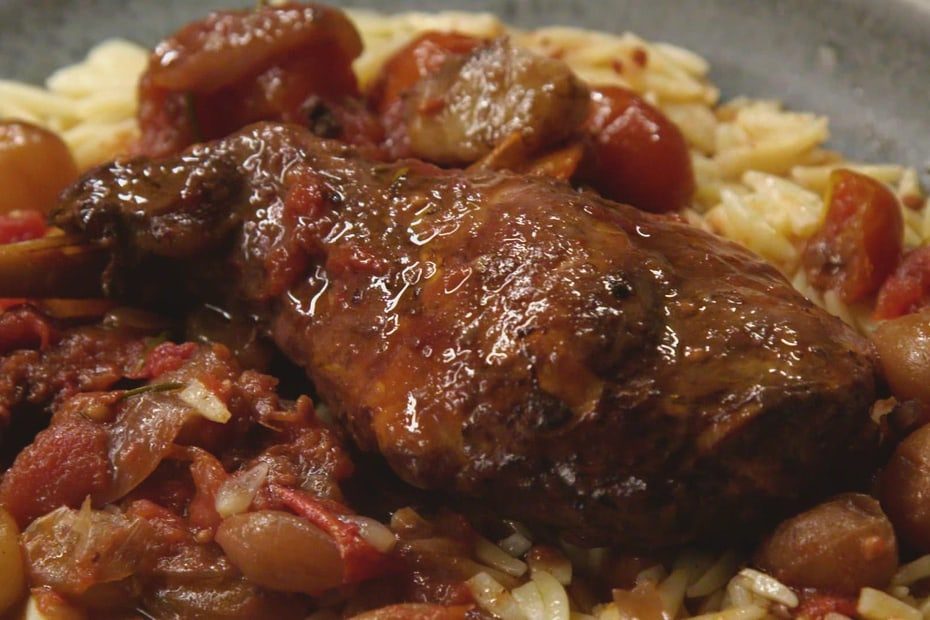 Lagostifado - Rabbit Stew
---
Rabbit stew is one of the most traditional Greek recipes, found almost everywhere. This particular version is a regional specialty from the Aegean island of Paros.
Ingredients
1/2

cup

extra virgin Greek olive oil

1

medium-size rabbit

(about 3 pounds), cut into serving pieces

1

large onion

halved and sliced

4

garlic cloves

finely chopped

1 ½

cups

dry red wine

1

cup

sweet red wine

such as Mavrodaphne

1

cup

chopped canned tomatoes

1

cup

halved cherry tomatoes

1

cup

chicken stock

2

bay leaves

6-10

allspice berries

2 - 4

fresh rosemary sprigs

1

cinnamon stick

3

tablespoons

butter

2

pounds

small round stewing onions

peeled and whole

1

scant teaspoon sugar

1

tablespoon

tomato paste

diluted in 1 tablespoon of water
Instructions
Preheat oven to 375F/180C.

Heat 4 to 6 tablespoons of olive oil, or more if needed, in a large, wide pot or Dutch oven over medium flame and add the rabbit, in batches if necessary. Brown on one side then turn with kitchen tongs to brown on the other side. Season with salt and pepper. Remove the rabbit with kitchen tongs to a tray or platter lined with paper towels.

Add the onions to the pot and cook until wilted, about 8 to 10 minutes. Stir in the garlic. Add the dry and sweet wines and simmer until the liquid is reduced by a third. Add the chopped fresh and canned tomatoes and chicken stock. Add the rabbit pieces to the pot. Season with salt and pepper. Add all the herbs and spices.

Cover the pot and transfer the rabbit to the oven. Bake for about 35 minutes.

While the rabbit bakes, heat the butter in a large, wide skillet and brown the stewing onions on all sides over low heat, about 15 to 20 minutes. About halfway through cooking them, sprinkle with the sugar and add half a cup of water. Shake the pan back and forth to disperse it evenly. The onions should cook long enough to caramelize without losing their shape or falling apart.

About halfway through baking the rabbit, stir in the tomato paste to help thicken up the pan juices. Add the caramelized onions to the rabbit after it's baked for 35 minutes or so and continue baking another half hour, or until very tender and falling off the bone. Remove, cool slightly and serve over rice or noodles.