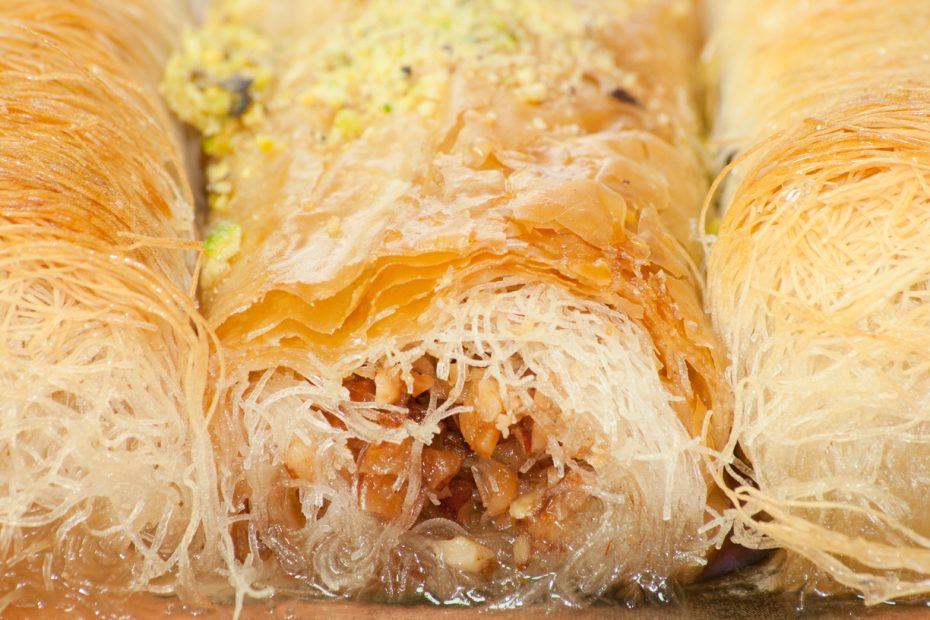 Ioannina-Style Baklava
---
Ioannina-style baklava is unique. It is basically baklava filled with a combination of nuts and torn up kataifi pastry (the strands that look like angel hair or shredded wheat). It's a classic of Ioannina, the capital of Epirus, and one of the best-known desserts in Greece. This recipe has been reworked slightly from the original one on the show, which was prepared for a much larger quantity, even though we just showed one oan being made. You'll need an8- or 10-inch round baking pan to prepare this.
Ingredients
2

cups

breadcrumbs

finely ground

2

cups

almonds

coarsely chopped

2

cups

walnuts

coarsely chopped

½

pound

kataifi pastry

defrosted and at room temperature

6 to 8

phyllo sheets

defrosted and at room temperature

1

cup

melted butter

or slightly less, to taste
For the Syrup
¾

cup

sugar

¾

cup

water

1

teaspoons

Greek honey

1

small cinnamon stick

1

strip of lemon zest
Instructions
In a large bowl, mix together the breadcrumbs, almonds, and walnuts. Butter an 8- or 10-inch round baking pan.

Place two phyllo sheets vertically in front of you on a work surface. Break apart about a fistful of the kataifi by hand, separating the strands as you would a skein of wool or thread, and strew the strands in the middle of a phyllo pastry, in a line across the phyllo width. Sprinkle a third or a quarter of the nut and breadcrumb mixture – depending on whether you're using 6 or 8 phyllo sheets – over the kataifi.

Bring up the two sheets of phyllo together and fold them over the kataifi-nut filling joining the edges at the other end of the phyllo, so that you are essentially folding the phyllo in half vertically over the mixture.

Starting from the folded bottom, gently roll the phyllo into a cylinder that's firm enough to keep the filling securely inside. Trim off the edges of the baklava roll and cut it in small bite- size pieces, about 1 ½ or 2 inches long. Place the pieces inside the buttered pan, snuggly next to each other, starting at the inner rim and working your way around the rim of the pan.

Drizzle at least half the melted butter over the baklava. Bake in a preheated oven for 2 hours at 325F/165C. The baklava needs to bake rather slowly, so that the inside pastry is fully cooked through.

As the baklava bakes, prepare the syrup by simmering all the ingredients together for 8 minutes, until the sugar is completely dissolved and the syrup thickish. Cool the syrup.

When the baklava is ready, remove the cinnamon stick and lemon zest from the cooled syrup and pour it over the hot baklava slowly, allowing it to spread everywhere and be absorbed. Let the baklava rest for at least a half hour before serving.