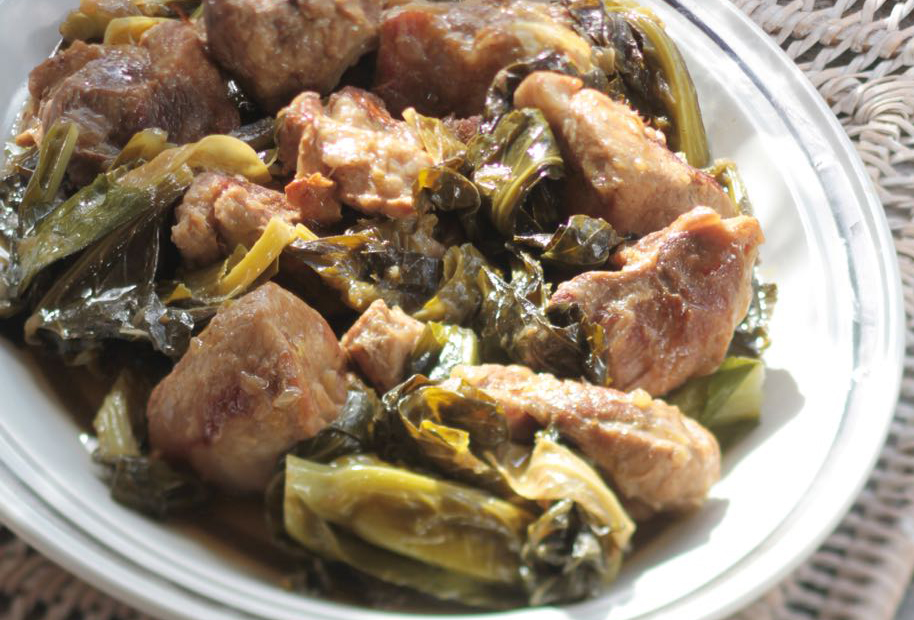 Ikaria Lemony Pork Braised with Collards or Bok Choy
2016-12-21 18:14:37
Serves 4
Lemony pork stewed with collards (lahanides in Greek) is probably the most popular winter recipe on Ikaria, a Sunday and holiday treat that calls for strong wine and company. There are at least three versions of this dish. The first is with fresh pork, preferably bone-in (for more flavor). But the more traditional versions, if you have a family pig and a fireplace over which to smoke it once you slaughter it, is for smoked pork. The leg is usually smoked, but I've also come across this recipe for smoked pancetta, which you can find in Italian markets.
Ingredients
2/3 cup extra virgin Greek olive oil
2 ½ pounds stewing pork (shoulder or leg), bone in preferably, cut into portion-size pieces
Salt and pepper to taste
2 large red onions, chopped
2 tablespoons all-purpose flour
1 cup dry white wine
1-2 cups water or stock
3 pounds / 1 ½ kilos collard greens, trimmed and cut into 11/2-inch wide ribbons
Juice of 1 – 2 lemons, to taste
Instructions
Heat the olive oil in a large wide pot over medium-high flame. Add the pork, in batches if necessary, and sear, turning with kitchen tongs to brown on all sides.
Push the pork to one side of the pot and add the onions. Lower heat to medium and cook, stirring the onions occasionally, until soft and translucent, about 8 – 10 minutes. Sprinkle the flour into the pot. Mix gently to combine with the onions and pork. Cook for 2-3 minutes.
Pour in the wine. When the alcohol sizzles off, add enough water or stock to come about half way up the height of the meat. Cover, reduce heat to low and simmer for one hour to about an hour and 15 minutes, or until the meat is tender but not completely done.
Add the collards to the pot. Mix in gently. Season with salt and pepper. Cover and cook for another 35-40 minutes, or until the greens and meat are both very tender and the meat is falling off the bone.
About five minutes before removing from heat, pour in half the lemon juice, taste it, and pour in the rest if desired. Remove from heat and serve.
Greek Food - Greek Cooking - Greek Recipes by Diane Kochilas //www.dianekochilas.com/