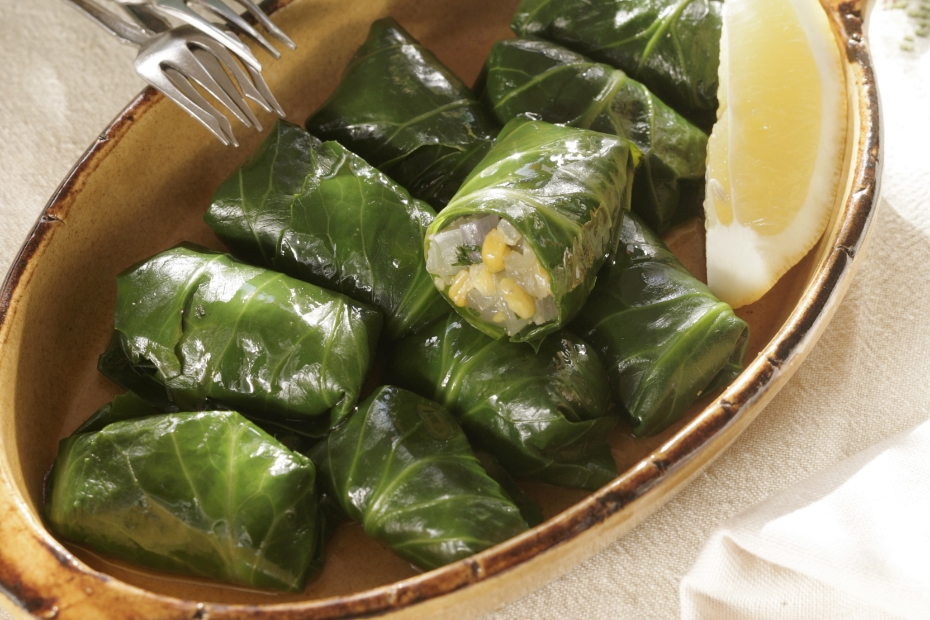 Ikaria Corn-Stuffed Collard Dolmades
2015-12-29 18:07:30
Serves 6
The first time I heard about this version of stuffed cabbage I was literally sitting next to the fireplace in the home where my father grew up and where my 95-year-old Aunt Mary still lived. Until she passed away a few years ago, she was a great source of knowledge about old Ikarian dishes. She told me how when she was a girl only well-to-do families could afford rice. On Ikaria, in its place, people used dried corn, which they grew and, among other things, dried in the sun, reserving the amber-like little kernels for use in dishes that went hand in hand with the cold, damp months of winter. Cabbage was and still is something of a staple crop in Ikarian gardens and collards, in the same family, are a winter staple in the longevity diet of Ikarians.
Ingredients
2 cups dried sweet corn kernels* or 2 1/2 cups fresh corn kernels
24 large fresh collard green leavess, stems trimmed
3 large red onions, finely chopped
1 cup chopped fresh mint leaves
1 cup chopped wild fennel or 1 fennel bulb, finely chopped
½ cup chopped fresh chervil (optional)
½ cup chopped fresh flat-leaf parsley
Salt and pepper to taste
½ cup extra-virgin Greek olive oil
Instructions
Soak the corn kernels overnight refrigerated in cold water. Remove and drain. If using fresh corn kernels, just have them on hand for the filling, below.
Bring a large pot of salted water to a rolling boil and blanch the collard greens for 1 minute, just to soften a bit. Remove, drain in a colander under cold water, set aside and pat dry.
Heat 2 tablespoons olive oil in large skillet and wilt the onions, cooking until very pale golden, about 10 minutes over low flame.
Combine the drained corn, onions, and chopped herbs. Season to taste with salt and pepper.
Place 2 tablespoons of the filling on the bottom center of each leaf and roll up, folding in the sides to form the dolmades (like cylinders or spring rolls). Pour 2 tablespoons olive oil on the bottom of a large, wide pot and place the collard dolmades seam-side down, one snugly next to the other. Add enough water just to cover. Top the pot with its lid and bring the dolmades to a simmer over medium heat. Lower the flame and cook slowly for about 30 minutes, or until leaves and filling are tender. Remove, pour in remaining olive oil, and serve.
Notes
Variation: Collard-Green Dolmades with Avgolemono. Follow the recipe above, but substitute short-grain rice for the corn. To make the avgolemono, whisk together 2 large egg yolks and the juice of 1 lemon until frothy. Very slowly add two ladlefuls of hot pot juices from the stuffed, cooked leaves, whisking vigorously all the while. Pour the egg-lemon mixture back into the pot, tilt so that it is evenly distributed and serve immediately. (Do not cover the pot after pouring in the avgolemono unless you want an omelet!)
* You can find dried corn kernels in specialty markets. They are popular among the Amish.
Adapted from Ikaria: Lessons on Food, Life and Longevity from the Greek Island Where People Forget to Die
Adapted from Ikaria: Lessons on Food, Life and Longevity from the Greek Island Where People Forget to Die
Greek Food - Greek Cooking - Greek Recipes by Diane Kochilas //www.dianekochilas.com/