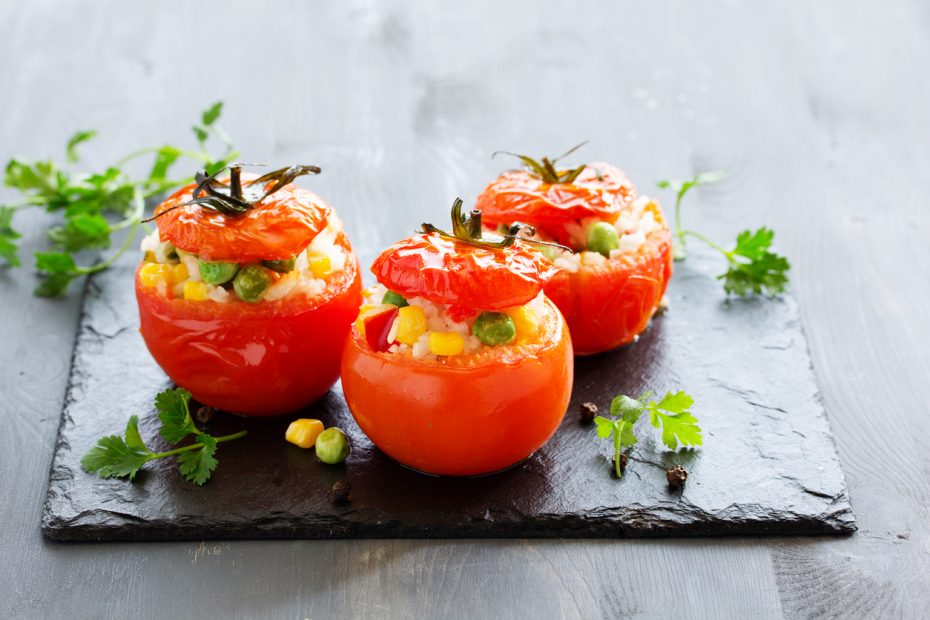 Greek Vegan Stuffed Tomatoes with Rice, Corn & Herbs
---
This recipe for Greek Vegan Stuffed Tomatoes with Rice, Corn & Herbs is a variation on a great greek summer classic. Tomatoes are the protagonist in countless stuffed dishes, some totally vegan, some with cheese, and some with meat and/or fish and seafood. The variations are endless. All you need are great tomatoes in season, sweet fresh corn, great Greek olive oil, and a little love when making this delectable Greek recipe!
Ingredients
8

medium firm

ripe tomatoes

6

Tbsp

extra virgin Greek olive oil

3

large onions

finely chopped

8

oz

/ 250 gr short grain rice

1

small red pepper deseeded and diced

1

cup

fresh or frozen and defrosted corn kernels

1

cup

fresh or frozen and defrosted peas

1

cup

mixed fresh chopped herbs

any combination of mint, parsley, oregano, marjoram and/or basil

Water or vegetable stock as needed
Instructions
Preheat the oven to 400 F (200 C).

With a sharp knife remove the top 1/5 of the tomato. If there are little stems try to keep them for better presentation.

Using a teaspoon, carefully scoop out the tomato pulp and transfer it to the bowl of a food processor. Puree the tomato pulp and set aside.

Sprinkle the inside of the tomatoes with a little salt and pepper and put them upside down in an oiled baking dish for them to drain. In the meantime, make the filling.

Heat half the olive oil over medium heat and sauté the onions until translucent, stirring occasionally, for about 10 minutes. Stir in the pepper and cook for about a minute.

Add the rice and stir to coat in the oil. Add the tomato pulp and enough water or stock to cover the rice by about a quarter inch. Season with salt and pepper. Cook on low heat until the rice has absorbed the liquid and is about halfway cooked. Add more water or stock as needed if the rice needs more cooking. Stir in the corn and peas for a few minutes before removing the rice from the heat. Remove and stir in the herbs. Let the mixture cool.

Turn over the tomatoes and fill them with the rice mixture. Drizzle the remaining olive oil over the stuffed tomatoes. Place the caps over the tomatoes. Bake uncovered at 375F/180C for about an hour or until done. You can run them under the broiler for a few minutes if you want a nice char on the tops. Remove cools lightly and serve. These are great at room temperature, too!
Want to learn more easy, healthy Mediterranean diet recipes? Sign up for my online course "Mastering the Mediterranean!"
Want to learn more easy, healthy Mediterranean diet recipes? Sign up for my online course "Mastering the Mediterranean!"