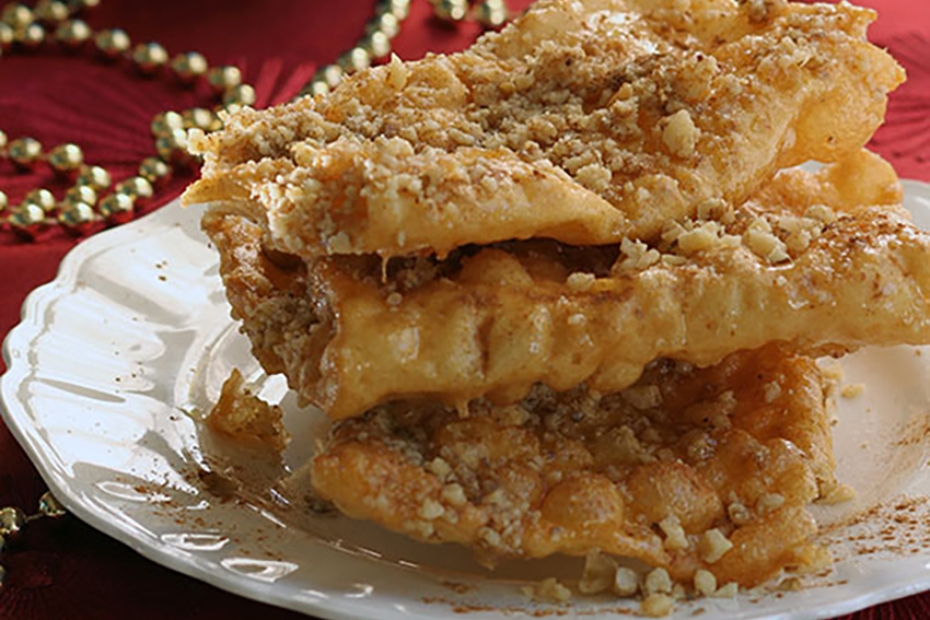 Honeyed Dough Strips: Xerotigana aka Diples
---
Xerotigana literally means dry, as in crunchy and fried. This confection, essentially dough strips fried in olive or other oil and drizzled generously with honey and nuts, is one of the classic Christmas sweets on the island. My dad made mountains of them every Christmas in our New York home, perhaps waxing nostalgic if in private about his love of the island where he grew up. Some cooks pinch the strips together in the center to form little bows. The pastry should be crisp and lightly redolent of eggs. These may be made a day in advance, but not drizzled with honey until just before serving, to prevent them from softening.
Ingredients
1

teaspoon

baking powder

¼

teaspoon

baking soda

2½ to 3

cups

all-purpose flour

5

egg yolks

1

egg white

2

tablespoons

butter

at room temperature

¼

cup

powdered sugar

2

tablespoons

brandy

Grated zest of 1 orange

½

teaspoon

vanilla extract

Olive oil for frying

Honey

preferably Ikarian pine honey, warmed slightly

Ground cinnamon

Finely chopped walnuts
Instructions
Sift together the baking powder, baking soda, and 2½ cups of the flour into a bowl.

In a bowl, with an electric mixer, beat the yolks and egg white at medium-high speed until fluffy. Slowly add the butter, powdered sugar, brandy, orange zest, and vanilla, beating well after each addition.

Remove the bowl from the mixer and gradually add the flour mixture by hand, in 1/2-cup increments, mixing in with a spatula. Knead until the dough is elastic and smooth, then divide into 3 balls.

Lightly flour a work surface. Using a rolling pin, roll out each ball, one at a time, until as thin as a dime. As you roll, rotate the dough and sprinkle lightly with flour, so that it opens up evenly on all sides and becomes elastic and silky. You can also do this using a pasta maker, passing the balls through it in ever-narrowing sequence, until you have long, thin strips.

There are many shapes for xerotigana, but on Ikaria the preferred shape is the simplest: a strip about 2 inches wide and 4 inches long. Cut the strips and set them aside, covered, until you finish and until you have heated the oil.

In a large, deep pot, heat 4 inches / 10 cm of oil to 350°F / 175°C. Using tongs or a slotted spoon, place several dough strips at a time in the oil, being careful not to overcrowd them. Fry for a few seconds, until the xerotigana turn light golden and bubble and float to the surface. Remove with a spider or slotted spoon and drain on paper towels. Repeat until all the dough is used up.

Place the xerotigana on a large platter or platters and drizzle generously with warm honey. Sprinkle with cinnamon and walnuts. Serve.
Notes
Adapted from Ikaria: Lessons on Food, Life and Longevity from the Greek Island Where People Forget to Die