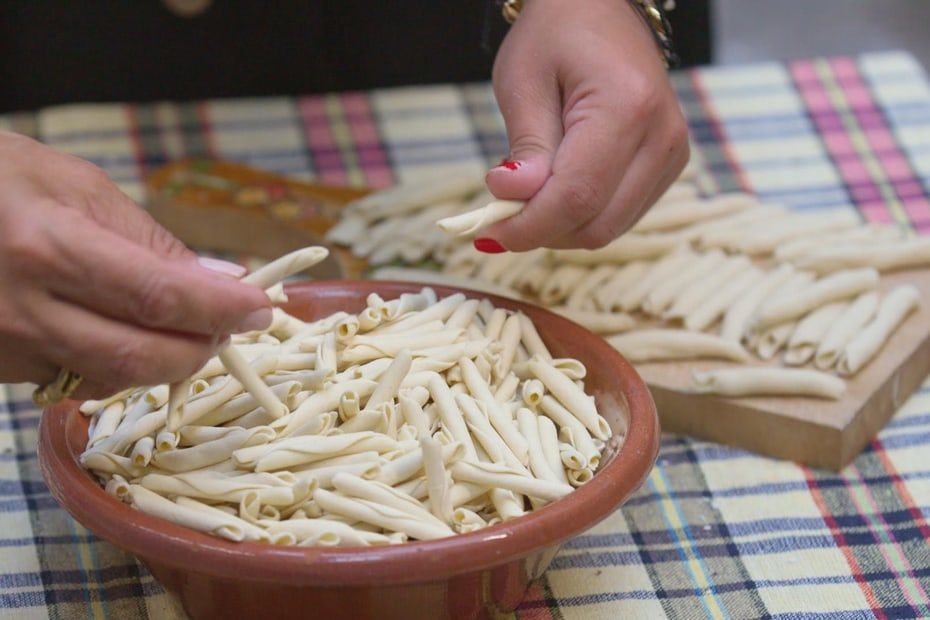 Handmade Makaronia Spartou - Greek Pasta
---
There is a surprising variety of regional fresh and dried pasta made throughout Greece, with specific shapes and techniques associated with specific places. This Greek recipe for pasta hails from the Greek island of Chios and is called Spartou, after the name for reed in Greek. It is also sometimes herisia, for handmade. This pasta is a local favorite that brings back very fond memories for anyone old enough to remember their mothers and grandmothers on the island making it.
Instructions
Combine the liquids and salt in a large mixing bowl. Slowly add the flour, mixing as you go, until a dough mass forms. Add only as much flour as needed to make a smooth firm dough. Knead by hand for 15 to 20 minutes. The dough should be smooth and not at all sticky. Alternatively, you can do this in a mixer outfitted with a dough hook, mixing at medium speed until smooth. Let the dough rest, covered, for a half hour.

Break off a golf-ball size piece of dough at a time and roll it into a rope about ¾-inch thick. Break off marble size pieces, one at a time, from the dough rope, shape into a small ball, flatten and make an indentation in the center. Wrap the small piece around a reed or round skewer and gently roll back and forth between your palms to form a hollow cylinder about 1½-2 inches long. Slide it off the reed or skewer and set aside on a platter or tray and continue until all the dough is used up. You can use the pasta fresh or you can dry it for about 2 days on some sort of perforated surface, such as a rack or clean screen, so that air can circulate around the pasta pieces.

Cook in salted boiling water until al dente, a few minutes for the fresh pasta and about 12 minutes for the dried.