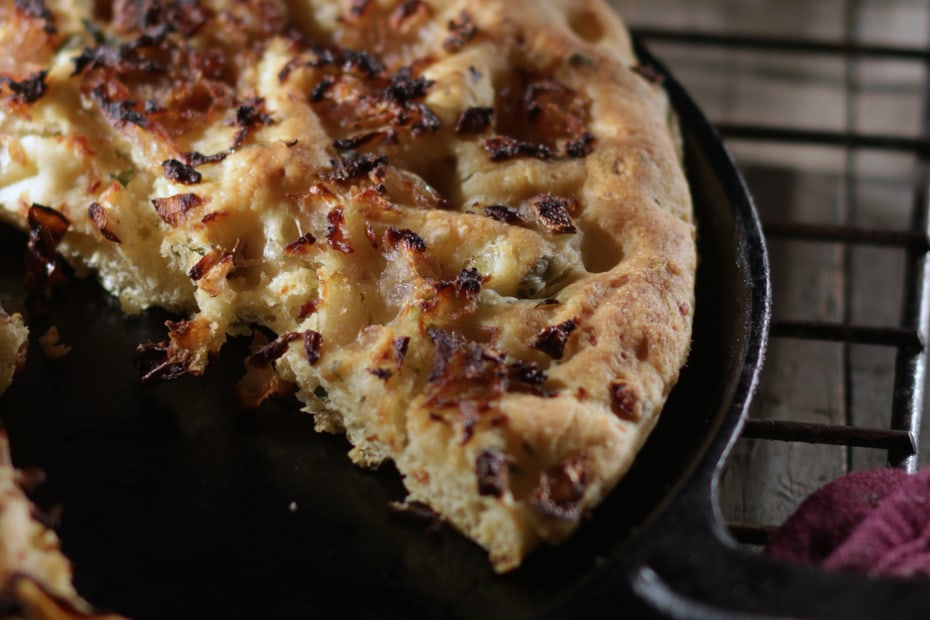 Focaccia with Wild Greek Herbs
---
Flatbreads are a pan-Mediterranean delight and I've taken this classic Italian focaccia and transformed a little into a Greek recipe with the help of some wild Greek dried herbs. It's great as a snack, as a special treat for a dinner party, and with any  number of great both Italian and Greek cheeses.
Instructions
In a skillet, heat half of the oil over low heat and sweat the garlic. When it softens and begins to brown lightly, remove from the skillet. Let the oil in the skillet cool.

Combine the yeast, 1/2 cup of flour and the water in a mixing bowl and let the mixture stand for 10 minutes, until it starts to bubble and expand. Add the flour, salt, and rosemary and mix until a dough mass forms. It might still need 1 tablespoon of water. You can also use an electric mixer outfitted with a dough hook to mix the knead the dough. The dough will be sticky and elastic.

Form a ball with the dough and let it stand in an oiled bowl covered with plastic wrap for 1 hour.

Sauté the onions in the skillet with the oil over very low heat for 25-30 minutes, until soft.

Divide the dough in two and place each part in an oiled pan, about 10 inches / 22 cm in diameter. Roll out each of the balls to a circle the size of the pan. Cover with a cloth and let stand for 15 minutes. Using the tips of your fingers, create an uneven surface on the dough. Let it stand for a second time inside the pan for about 50 minutes.

Preheat the oven to 375˚F (180˚C). Dip the tips of your fingers in the remaining oil and press into the dough to create small wells on the surface. Top each foccacia with equal amounts of onion, sprinkle with dried herbs and sea salt, and drizzle with the remaining oil. Bake for about 25-30 minutes, or until the bread is golden. You can serve it either warm or at room temperature.
Love savory pies and phyllo specialties? Sign up for my online class "Fearless Phyllo – Homemade!" to learn the secrets of making great, easy pies at home! 
Want to learn more easy, healthy Mediterranean diet recipes? Sign up for my online course "Mastering the Mediterranean!"