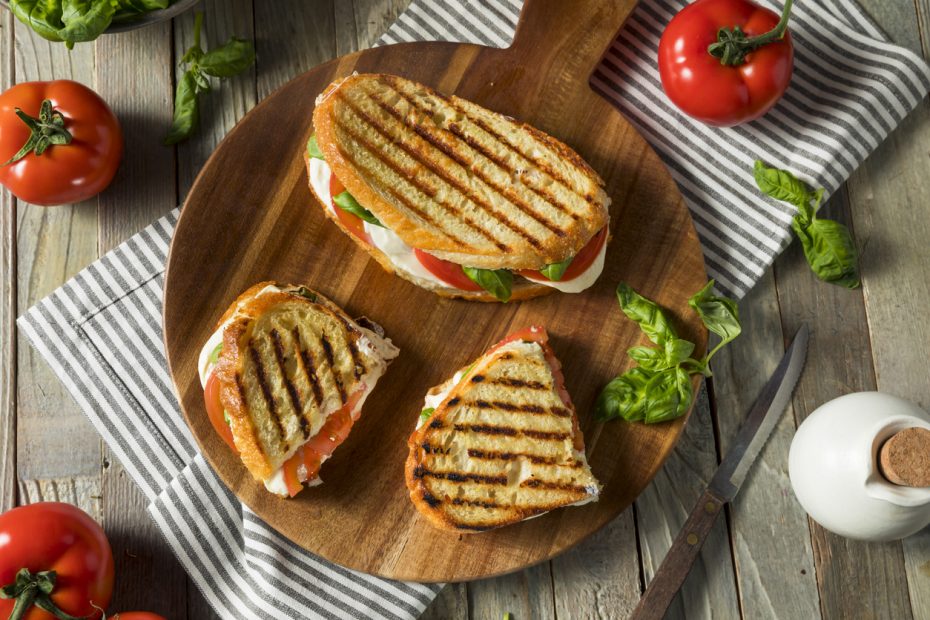 Grilled Mozzarella Sandwich with Tomatoes and Basil
---
This grilled mozzarella sandwich with tomatoes and basil attests to how delicious the simple flavors of a Mediterranean summer can be. It's a classic Mediterranean diet recipe and great quick snack. I make a meal of this, using great Greek tomatoes and basil from my garden and serving this classic grilled cheese sandwich with a great seasonal salad, too!
Ingredients
4

slices

country-style whole grain bread,

preferably sourdough

2

Tbsp

extra virgin Greek olive oil

Pinch

of smoked sea salt

optional

1

large ripe

firm tomato, such as Beefsteak, cored and sliced

2

tsp

good quality commercial pesto

6

1/4-inch-thick slices of fresh mozzarella,

well-drained

8

large fresh large-leaf basil leaves
Instructions
Brush one side of each slice of bread with a little olive oil.

Core and slice the tomato into 6 or 8 slices. Spread a teaspoon of pesto on two of the four bread slices and place 3 to 4 tomato slices over it. Season with a little sea salt and smoked salt. Top with 2 basil leaves and then place the mozzarella slices on top. Top with two more basil leaves.

Place the second bread slice over the sandwich. Brush the top and bottom outer surface of the bread with a little olive oil. Heat a nonstick pan or grill pan and drizzle in a teaspoon of olive oil. Place the sandwiches, one at a time if necessary to fit better, into the pan. Grill for about 3 to 5 minutes over medium heat and flip carefully with a spatula to grill on the other side. Remove when the bread is golden brown and the mozzarella oozy but still solid. Repeat with remaining sandwich. Enjoy!
Love savory pies and phyllo specialties? Sign up for my online class "Fearless Phyllo – Homemade!" to learn the secrets of making great, easy pies at home! 
Want to learn more easy, healthy Mediterranean diet recipes? Sign up for my online course "Mastering the Mediterranean!"
Want to learn more easy, healthy Mediterranean diet recipes? Sign up for my online course "Mastering the Mediterranean!"