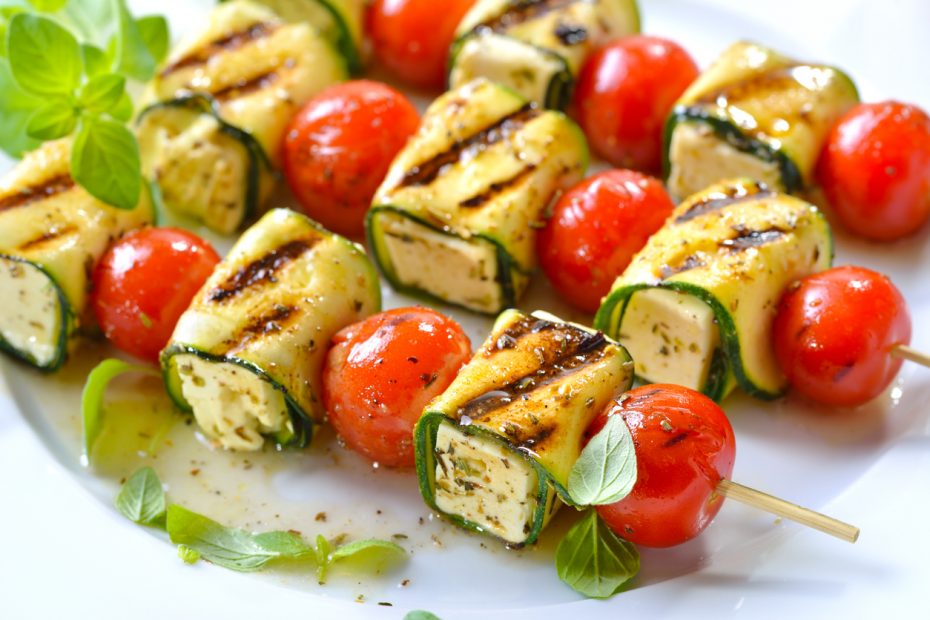 GRILLED FETA WRAPPED IN ZUCCHINI
---
SHAVED ZUCCHINI TIP: The best vegetable parer for shaving zucchini is the Y-shaped one. You always want to shave the zucchini right before preparing the recipe. You can turn any excess shaved zucchini into a simple and refreshing salad by tossing it with olive oil, salt, some grated or shaved cheese and toasted nuts or seeds. Crisp the zucchini strips, if you're using them for a salad, in a bowl of ice water.
Ingredients
2

medium to large zucchini

1

pound

Greek feta

1

cup

packed fresh basil leaves

24

firm cherry tomatoes

Extra virgin Greek olive oil for brushing

8

wooden skewers

about 8 inches long
Instructions
Soak the skewers in water for a half hour before starting the recipe. Preheat the grill if necessary. You can also do this in a grill pan on top of the stove.

If using the onion, cut it into rings or slices. Heat a heavy skillet and add about 2 tablespoons of olive oil. Add the onion to the skillet, reduce heat to medium, season lightly with salt, and cook until caramelized, about 15 to 20 minutes. Stir occasionally.

Trim both ends off the zucchini. Using a vegetable parer or mandolin, or just a very sharp chef's knife – whichever you're most comfortable with – shave the zucchini into thin slices. Each zucchini should yield about 12 slices. (Shave one side first and when you get to the seed bed shave the other side.)

Cut the feta into 24 approximately 1 ½ - inch (4 cm) cubes.

Take the first zucchini slice and place a feta cube at one end and a basil leaf on top, tucking it around the feta so there is no overhang. Gently roll up the zucchini and place it seam-side down on a plate or cutting board while you prepare the rest. Continue until done with the wrapping. Thread three zucchini packets and three whole cherry tomatoes, alternating between each onto each of the skewers. Brush with olive oil and season with salt and pepper to taste.

If using a grill, lightly oil the rack and grill the skewers over medium heat, turning once, to brown and form grill marks on all sides. If using a grill pan on top of the stove, heat the pan, brush it lightly with olive oil, and place the skewers in batches in the pan. Cook, turning, until the zucchini has grill marks on all sides.

Remove the skewers to a platter, garnish with the caramelized onions if desired, and sprinkle with any remaining fresh basil leaves.