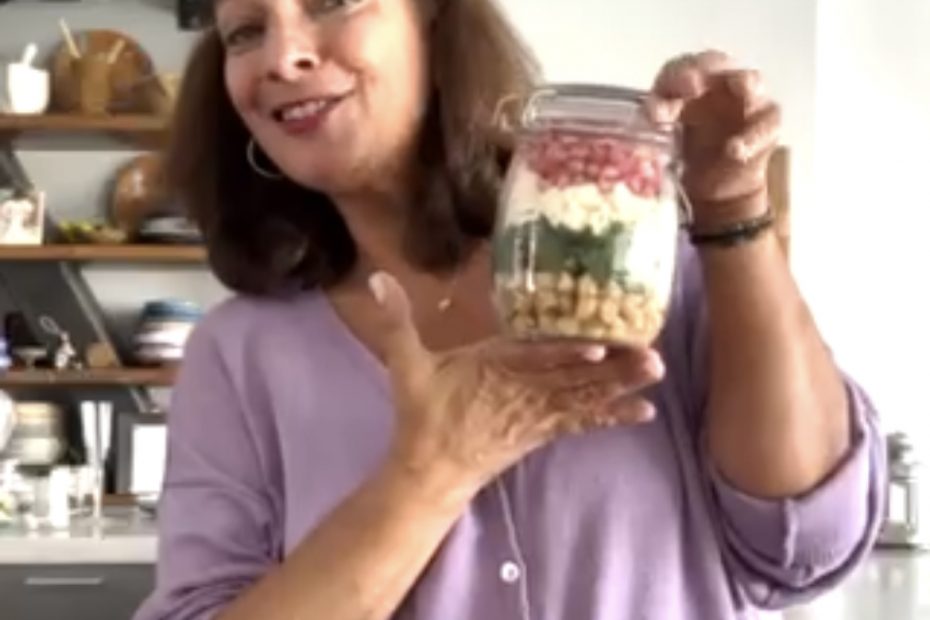 Greek Salad in a Jar with Chickpeas, Spinach, Feta and Pomegranate
---
This recipe for Greek Salad in a Jar with Chickpeas, Spinach, Feta and Pomegranate is probably one of countless Greek salad variations you can stuff into a jar! You can use good quality canned, drained chickpeas for this, but make sure the spinach is fresh and the cheese is real Greek feta and not an imposter! Here's a great Greek diet recipe that's both a hearty Mediterranean vegetarian recipe but also perfect for anyone on the go!
Ingredients
2

cups

coarsely chopped fresh spinach

leaves only

3

scallions

trimmed and chopped

1

cup

cooked chickpeas (good quality canned are fine

2

tablespoons

chopped fresh mint or cilantro or basil

2/3

cup

crumbled Greek feta

1

cup

pomegranate seeds
For the dressing:
2

teaspoons

Dijon mustard

2

tablespoons

petimezi

1

– 2 tablespoons balsamic or sweet wine vinegar

1/3

cup

extra virgin Greek olive oil or more

as needed
Instructions
Whisk all the ingredients for the dressing together until smooth and emulsified.

Combine the chickpeas with half the scallions and herbs. Lubricate the mixture with half the dressing, toss and place in the bottom of a mason or other jar.

Toss the spinach with the remaining dressing and place over the chickpeas in the jar, pressing down to make room for the next layers. Next, add the remaining scallions, crumbled feta and pomegranate seeds.