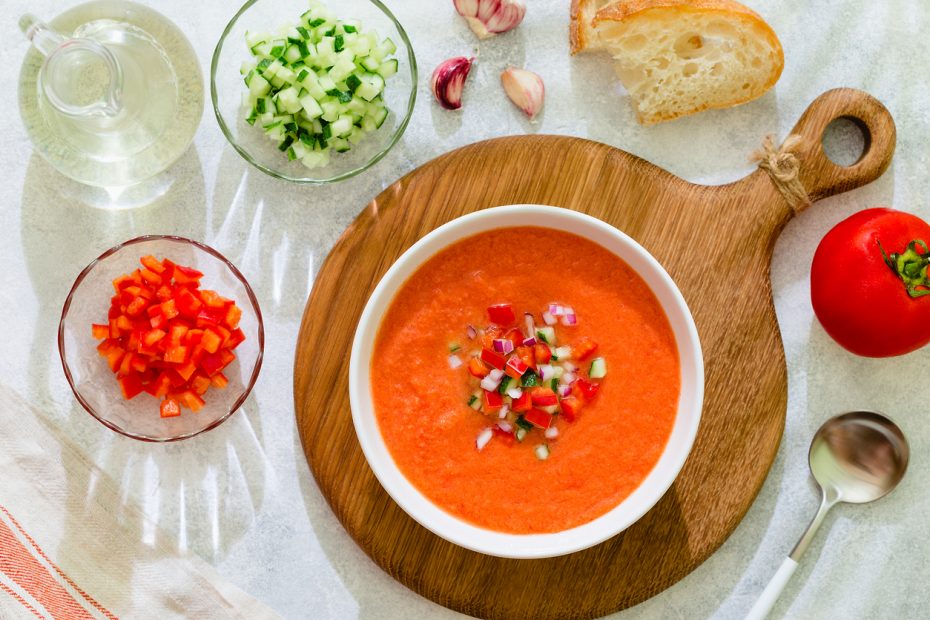 Greek Salad Gazpacho
---
This Greek Salad Gazpacho is AWESOME! And it's the perfect example of what the Mediterranean diet is really about: More than anything it's a road map for how not to waste food! Turning stale, leftover bread into delicious recipes is an age-old tradition that spans the region's many different cuisines. Crostini, bruschetta, Greek bread-based dips like skordalia and more are all ways in which poor cooks made use of leftover bread. Gazpacho is one such recipe, too! This one crosses boundaries: it has a Spanish soul and a Greek heart!
Ingredients
For the Kalamata Croutons
2

1-inch [2½-cm] slices day-old rye or whole grain bread, cut into 1-inch (2½-cm) cubes

2

Tbsp

Kalamata olive paste

2

Tbsp

extra virgin Greek olive oil
For the Soup
8

large

firm tomatoes, coarsely chopped

2

large green bell peppers

seeded and coarsely chopped

1

fresh green or red chili pepper

seeded and coarsely chopped

1

large red onion

coarsely chopped

1

large seedless cucumber

coarsely chopped (unpeeled)

2

garlic cloves

minced

1

Tbsp

chopped fresh oregano or 1 teaspoon dried Greek oregano

1½

cups

tomato juice

3

Tbsp

extra virgin olive oil

2

Tbsp

strained fresh lemon juice
Instructions
Preheat the oven to 325℉ (160℃). Lightly oil a small sheet pan. Toss the cubed bread, Kalamata olive paste and olive oil together and bake for about 25 minutes or until crisped. Remove and cool.

Prepare the soup: Puree the tomatoes, peppers, onion, cucumber and garlic in a food processor. Add the oregano and pulse to combine. Remove and pour into a bowl. Stir in the tomato juice, olive oil and lemon juice. Season with salt and pepper and chill for at least 2 hours but not more than 4.

Serve in individual bowls, and divide the olive croutons evenly in each bowl.
Want to learn more easy, healthy Mediterranean diet recipes? Sign up for my online course "Mastering the Mediterranean!"
Love soup? Check out my online class "Comfort in a Soup Bowl!"