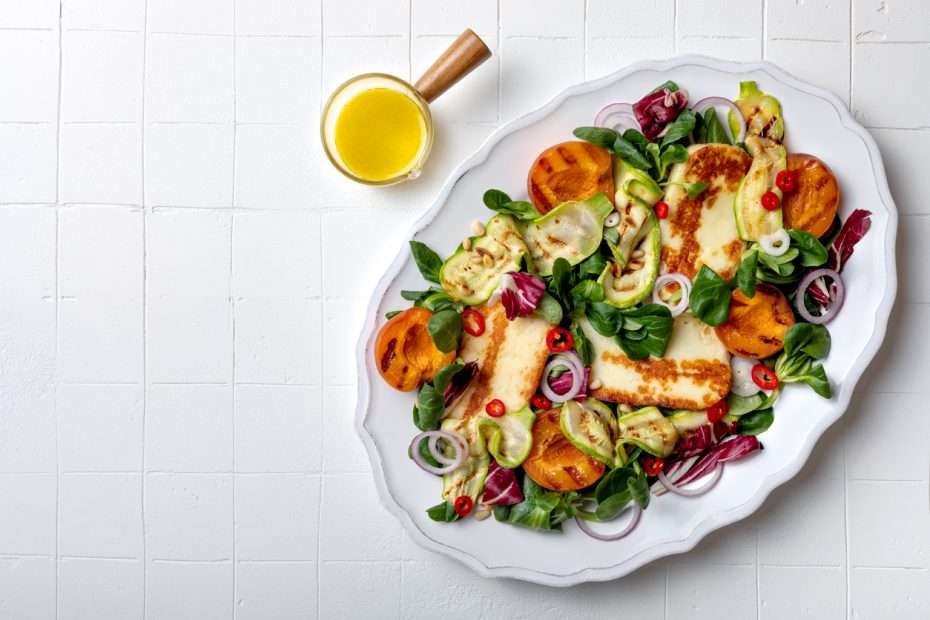 Spicy Grilled Apricots & Halloumi Salad
---
HOW TO KEEP YOUR GRILL PAN IN A GREAT SHAPE: Many different cookware items, from frying pans and woks to skillets and grill pans, need to be seasoned (also known as 'curing') before use, protecting them from rust and giving them a coating that prevents food from sticking. You don't need much, just a light brush of olive oil all over your grill pan.
Ingredients
Salad
2

medium zucchini

cut into ¼-inch-thick rounds

1 1/4

pounds

apricots

halved and pitted

8

ounces

halloumi cheese

sliced into 1/4-inch-thick strips

1

pound

mesclun or watercress

1

small radicchio

cored and shredded

1

half red onion

sliced in thin rings

1

small jalapeño

finely chopped (if desired)
Instructions
Make the dressing. Whisk all ingredients together in a bowl (or shake in a covered mason jar) until completely combined. Set aside until ready to use.

Heat a nonstick grill pan over medium-high heat. Once the stove pan grill pan is hot, brush with a little bit of olive oil. Using tongs, place zucchini on the pan and cook for 5 minutes. Flip and continue cooking on high, covered, for 5 minutes more. When zucchini is tender, remove from heat, taste for salt and adjust as needed and eat right away. Let cool, and add in a big bowl.

Brush the apricots with oil and season with salt and pepper. Add them to a stove pan grill over high heat, cut sides down, just until lightly charred, 10 minutes. Let cool, and add in the big bowl with the zucchini.

Pan-grill the halloumi. Meanwhile, heat the olive oil in a large grill pan or sauté. Add however many halloumi strips you can fit in an even layer, then cook for about 1-2 minutes per side or until the cheese is lightly browned. Transfer the halloumi to the large mixing bowl with the zucchini and the apricots, then repeat with the remaining strips until all of the halloumi has been cooked.

Toss the salad. Add the remaining ingredients (mesclun, radicchio, cucumber, red onion, jalapeno) to the large mixing bowl. Drizzle evenly with the dressing, and then toss until the salad is completely combined. Taste and season the salad with extra salt, black pepper, and/or lemon juice, if needed.