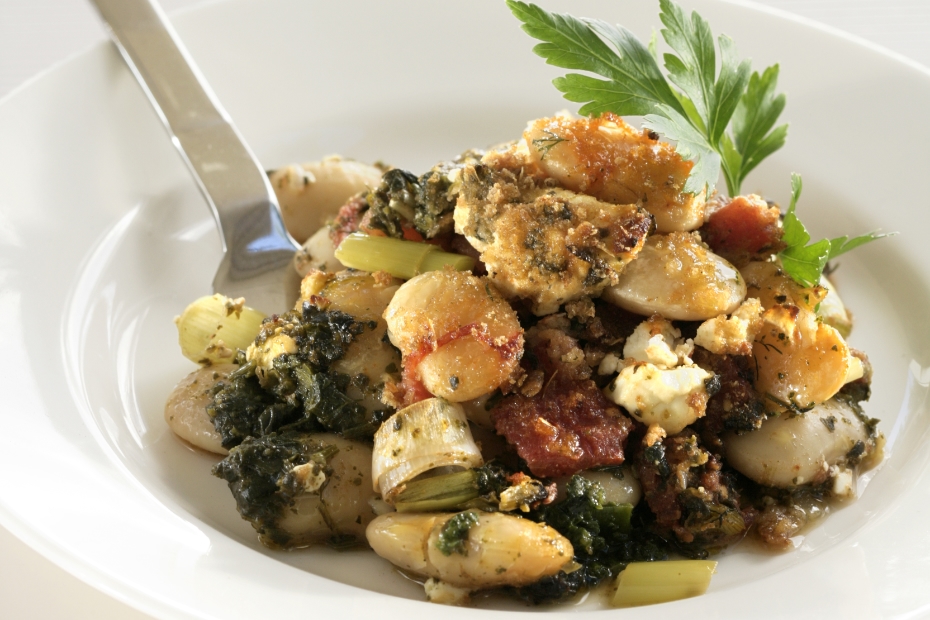 Giant Beans Baked with Spinach and Feta
---
Plenty of Greek traditional flavours are used in this dish: earthy Greek giant beans baked with healthy spinach and traditional Greek feta. A traditional dish, appetizing in both taste and texture! To find authentic Greek giant beans as well as olive oils, herbs, tomato products and many other carefully curated Greek artisinal foods, visit my online store
here
.
Ingredients
½

pound/250 g dried giant beans

picked over, rinsed, soaked overnight in water to cover, and drained

2

pounds/1 kilo flat-leaf spinach

trimmed, chopped, and washed well

½

cup

snipped fresh dill

½

cup

chopped fresh flat-leaf parsley

1

medium leek

white and tender green parts, coarsely chopped and washed well

½

cup

plus 2 tablespoons extra-virgin Greek olive oil

2

large onions

coarsely chopped, or 2 cups chopped white and tender green parts of scallions

1 ½

cups

crumbled hard Greek feta cheese

preferably goat's milk

2

cups

peeled

seeded, and chopped plum tomatoes (or canned)

Freshly ground black pepper to taste

1/3

cup

plain bread crumbs from stale bread
Instructions
Place the drained beans in a large pot with enough water to cover by 3 inches/8 cm and bring to a boil. Reduce the heat to medium-low and simmer the beans until al dente, about 1 hour.

Meanwhile, place the spinach, herbs, and leek in a colander and sprinkle lightly with salt. Rub and press the mixture between the palm of one hand and the holes of the colander, almost in a kneading motion, so that the greens exude liquid. Do this for 10 minutes, then place a weighted plate over the greens and leave them to drain for 1 hour.

Heat 2 tablespoons of the olive oil in a medium skillet over medium heat and cook the onions, stirring, until wilted, about 5 minutes. Preheat the oven to 350˚F/180˚C.

Combine the drained greens with the cooked onions and 1 cup of the feta. Drain the beans, reserving 4 cups of the hot liquid. Toss the beans with the greens and 1 cup of the tomatoes. Taste and adjust the seasoning with salt, if desired, and pepper. Place the beans-and-greens mixture in a large ovenproof glass or ceramic baking dish and mix in a ¼ cup of the remaining olive oil and 2 cups of the hot cooking liquid. Pour the remaining 1 cup tomatoes over the surface of the beans and sprinkle the remaining ½ cup feta and the bread crumbs on top. Drizzle ¼ cup olive oil over the surface and bake, covered with a sheet of aluminum foil, until the beans are very creamy and soft but not disintegrating. Depending on the age and condition of the dried beans, this could mean anywhere between 1 and 2 ½ hours of cooking. Add more liquid to the pan if necessary during lukewarm, or at room temperature.