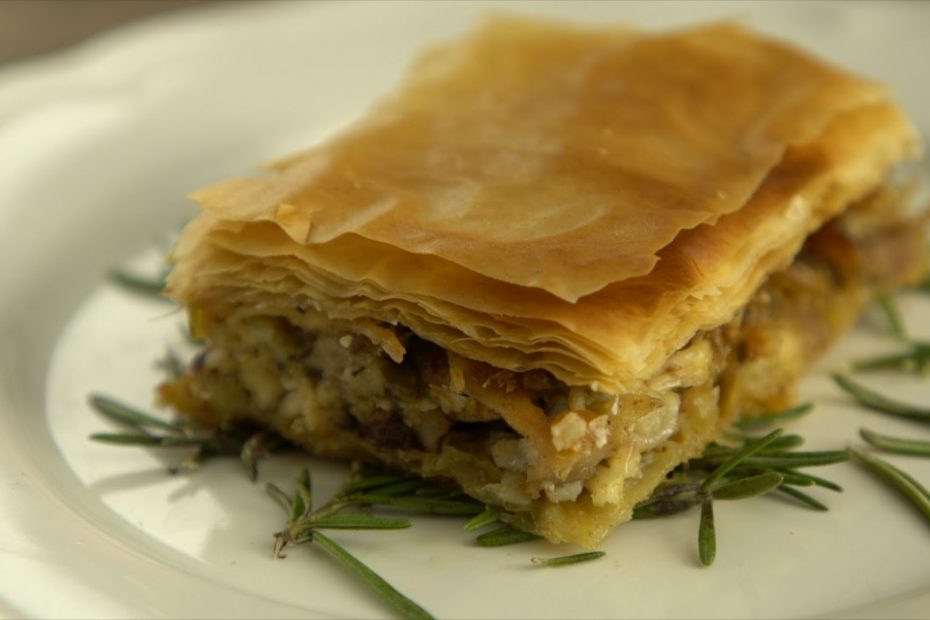 Flaky Chicken Phyllo Pie
---
You can make phyllo pies as light or hearty as you like. This chicken pie falls into the category of sating and filling pies, as easy to enjoy for a snack as for a main course. To find some of the artisinal Greek products you'll need to make this, visit my online shop
here
, where you'll discover a host of lovingly curated Greek ingredients.
Ingredients
3

cups

cooked

shredded chicken

2/3

cup

extra virgin Greek olive oil

1

leek

trimmed and chopped

2

cups

chopped red onion

1/2

cup/70 g pine nuts

1

cup

grated graviera cheese

½

cup

grated feta

½

cup

golden Greek raisins

1

cup

chopped mint or 3 tablespoons dried

1/2

cup

chopped parsley

1

tsp

ground cinnamon

1/2

tsp

ground cloves

1

tsp

ground cumin

1/2

tsp

ground nutmeg

Pepper

1

few tablespoons of rice

bulgur or quinoa, if needed

½

pound

commercial phyllo
Instructions
Heat 2 tablespoons olive oil in a large, wide pot or deep skillet and cook the leek and onion until soft and lightly colored. Stir in the garlic.

While the onion mixture is cooking, lightly toast the pine nuts in a small separate skillet.

Transfer the onion-leek mixture to a mixing bowl. Stir in the chicken, cheeses, raisins, herbs, spices, and toasted pine nuts. Season to taste with salt and pepper. If the mixture is loose, add a handful of raw rice, quinoa or bulgur.

Preheat the oven to 350°F/175°C. Preheat oven to 375F. Lightly oil a 9 X 13 X 2 inch rectangular baking pan. Open fillo sheets and place vertically in front of you on a clean work surface. Keep covered with kitchen towel.

Take the first six sheets and fold in half across the width so that the sheets look like a book. Open the "cover" of the "phyllo book" from right to left and brush the inside "jacket" with olive oil. Continue turning each half sheet and brushing the left side. When you get to the last layer, do not brush, but fold in half again to form the "book." Open from left to right this time and brush each surface with olive oil. When you get to the last sheet, brush the entire sheet with olive oil and place the stack inside the baking dish. Cover with filling. Spread filling evenly over surface of phyllo with a rubber spatula. Repeat the phyllo procedure for the top layers, using five to six sheets. Lay the stack over the filling and press down gently. Score into serving pieces. Sprinkle top sheet with a little cold water. Bake for 45 to 50 minutes, until phyllo is golden and crisp. Remove, cool for a half hour and serve.
Love chicken? Check out my online class "Wing It! – Great Mediterranean Chicken!"
Love savory pies and phyllo specialties? Sign up for my online class "Fearless Phyllo – Homemade!" to learn the secrets of making great, easy pies at home!