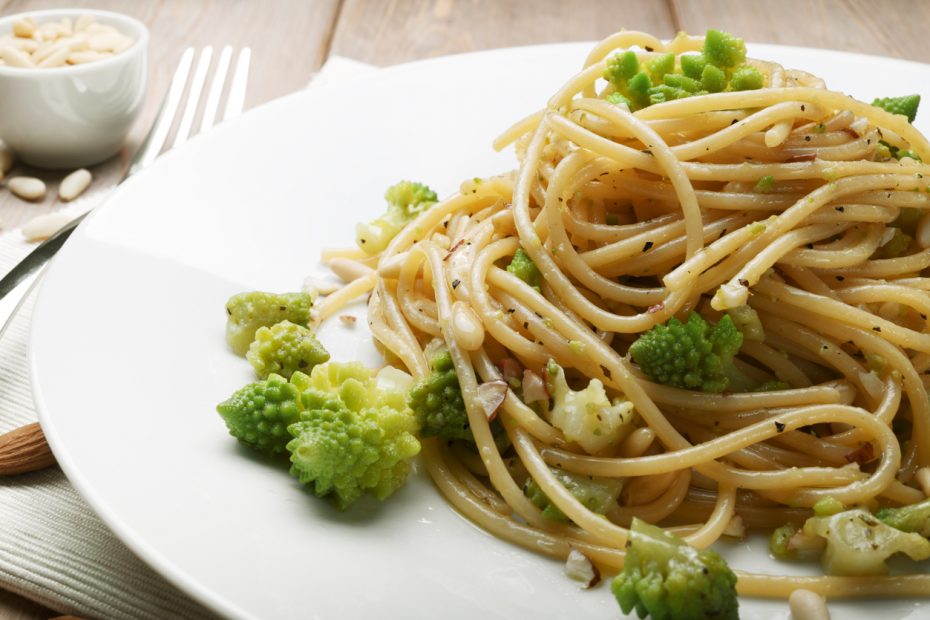 Easy Greek Spaghetti with Romanesco and Garlic Paste
---
This yummy recipe for Easy Greek Spaghetti with Romanesco and Garlic Paste will become a weekly standard in your kitchen. It's super healthy, too, and you can make it with any pasta, from whole wheat to bean-based, high-protein varieties.
Broccoli is rich in many nutrients, including fiber, vitamin C, vitamin K, iron, and potassium. It also has more protein than many other vegetables. Enjoy this great example of the easy, healthy Mediterranean diet. Broccoli is an important cruciferous vegetable in the longevity diet of Ikaria, too, especially in the winter.Most people grow it in their gardens
Ingredients
1½

pounds

broccoli

grated zest of 1 lemon,

organic or unwaxed

1

lb

spaghetti,

regular, whole wheat, or high-protein, bean-based

A pinch of red pepper flakes

Grated Kefalotyri or Parmesan

for serving (optional)
Instructions
Cut the florets off the broccoli, and cut the stalk and stems into ½-inch pieces. Steam the broccoli for 5 minutes, adding first the stalk and stems, then the florets for only 2 minutes.

Thinly slice the garlic. Warm a large skillet with high sides over medium heat, add the olive oil and garlic slices or paste and stir for a minute. Add the steamed broccoli and cook all together for 3 - 4 minutes, until the broccoli is tender but still al dente. Stir in the lemon zest. Remove and set aside.

Boil the pasta in well-salted water according to package directions, drain and reserve a cup of the pasta cooking liquid. Transfer the drained pasta to the broccoli skillet and toss all together, adding about half a cup of the pasta water to make the mixture juicy and succulent.

Season with sea salt, black pepper, and red pepper flakes. Heat for a minute or two and serve immediately, tossed or topped with the grated cheese.