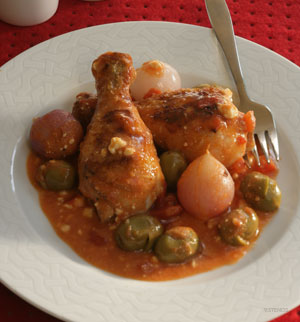 Braised Chicken with Feta & Olives
---
There are only a handful of recipes in the Greek kitchen that actually call for olives. Indeed, this seminal Greek product is eaten more on its own, as a snack, than as an ingredient in recipes. Olives add tang, color,and spunk to this unusual one-pot chicken recipe. To find great Kalamata olives and other Greek ingredients, go to my online store
here
.
Ingredients
1

medium chicken

approx. 1 ½ -2 kilos/ 3 – 4 lbs., cut into serving size pieces

Flour

6-8

tbsp.

extra virgin olive oil

½

kilo/1 lb. small white stewing onions

peeled but whole

6-8 to

matoes

peeled, seeded and chopped (canned are fine)

½-3/4

cup

water

350

g/¾ lb. cracked green olives

rinsed to reduce the salt levels, and pitted, if desired

1-2

tbsp.

red wine vinegar

300

g

hard feta

sliced* (optional)
Instructions
1. Season the flour with salt and pepper and lightly dredge the chicken, shaking off the excess.

2. Heat the oil in a large frying pan and as soon as it is very hot gradually add the chicken pieces, turning to brown on all sides. Remove from pan and drain on paper towels.

3. Lower the heat and sauté the onion until soft. Put the chicken back in the pan, add the tomatoes and the water. Season to taste. Cover the pan and cook slowly for about 20-25 minutes. Add water if needed.

4. Add the olives and vinegar. If using, add the feta a few minutes before removing the chicken from heat. Cover the pan and cook on low heat for 5-8 minutes until the cheese has almost melted. Serve warm. This dish stands perfectly well without the addition of feta, too.
Love chicken? Check out my online class "Wing It! – Great Mediterranean Chicken!"
Notes
There are many different types of authentic Greek feta, mainly distinguished by texture and sharpness. If you are shopping at a Greek food store, ask for hard feta; if you are shopping in a typical supermarket, go to the cheese counter and ask for hard feta. Try to avoid domestic American feta, as it is NOT the real thing and has a very salty flavor and dry texture.