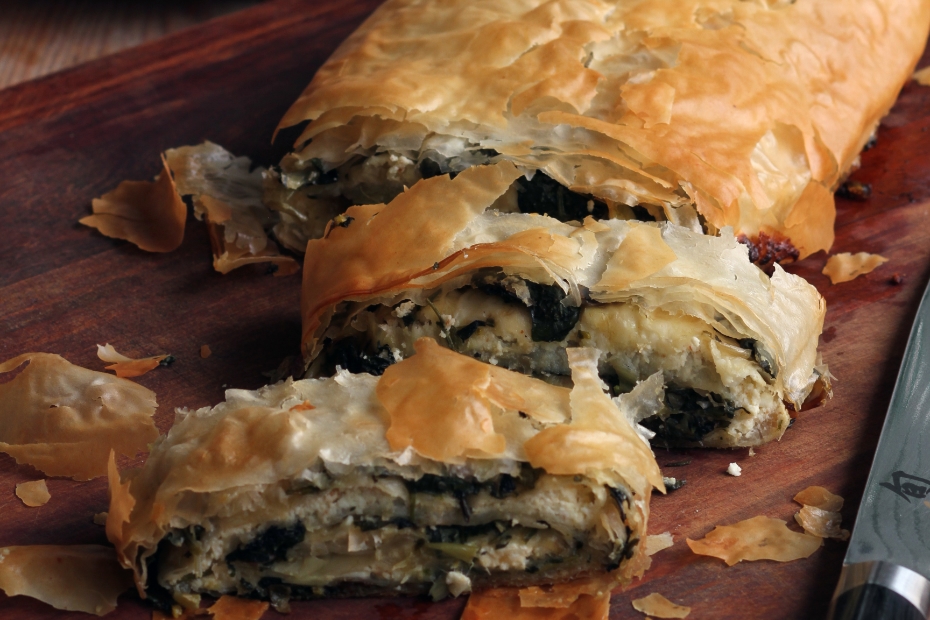 Classic Spanakopita Roll
---
Spinach pie is a Greek classic. Try it this way: rolled up into a festive cylinder and served in wedges. To find some of the artisanal Greek products you'll need to make this, visit my online shop, where you'll discover a host of lovingly curated Greek ingredients.
Ingredients
½

package / 225 g / 1/2 lb. commercial phyllo

Olive oil for greasing pan

1 ½

pounds

/ 675 g fresh Spinach

½

pound

/ 225 g scallions

1

large leek

trimmed

1

bunch each of dill and flat-leaf parsley

½

cup

Vrisi 36 extra virgin greek olive oil

1

egg

¾

pound

/ 340 g Greek feta

crumbled

2

tablsepoons grated kefalotyri cheese

or any other hard, sharp yellow sheep'smilk cheese

¾

tsp

ground nutmeg

Salt

pepper to taste

1

egg yolk

whisked with 2 tablespoons milk
Instructions
Defrost frozen phyllo overnight in the refrigerator and leave out at room temperature for two hours. Pre-heat oven to 190°C (375°F). Lightly oil a medium sheet pan or large rectangular baking pan.

Rinse and finely chop spinach, scallions, leek and herbs and keep each separate.

In a large skillet, sauté the scallions and leeks until soft. Sauté the spinach in a separate skillet until its liquid has cooked off. Combine leek-scallion mixture with spinach in a large bowl. Add the herbs, egg, feta, kefalotyri, salt and pepper. Let cool slightly.

Place 8 sheets of phyllo on a work surface and brush between each with olive oil. Spread filling evenly on top, leaving room around the edges. Fold in the short sides and then roll up the phyllo to form a long, fat cylinder. Carefully lift this into the prepared pan. Mix egg yolk and milk and brush top layer of phyllo. Score into serving pieces. Sprinkle a little cold water over the top layer of phyllo (this is not needed if the top layer has been brushed with egg yolk/milk mixture) and bake in a preheated oven for about 40 minutes until golden. Remove, cool, cut and serve.
Love savory pies and phyllo specialties? Sign up for my online class "Fearless Phyllo – Homemade!" to learn the secrets of making great, easy pies at home! 
Love vegetables? Want to learn more great plant-based Mediterranean dishes? Enroll in my online  class "Baked Vegetable Classics!"