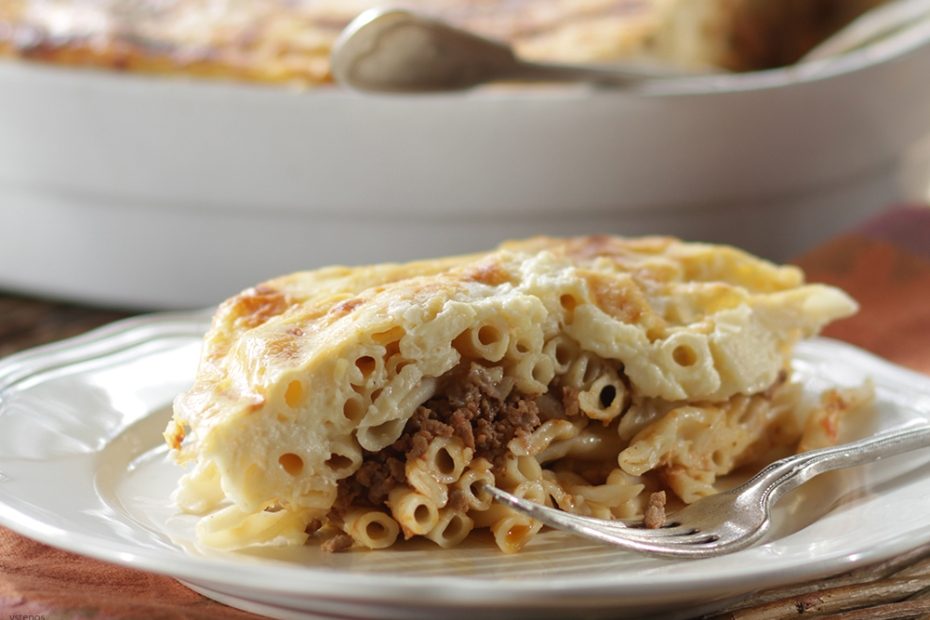 Classic Pastitsio
---
Pastitsio is the ultimate Greek comfort food. You can prepare it over several days and you can freeze it once it is baked. Thicken your meat sauce with Santorini tomato paste and use real Greek regional olive oil to make this even tastier! You can find both and lots of other artisinal Greek ingredients my online store
here
.
Ingredients
3

medium onions

finely chopped

675

gr.

/ 1 ½ pounds lean ground beef

1

large garlic clove

minced

3

cups

plum tomato concasse

1

cinnamon stick

1

scant teaspoon ground nutmeg

1

pinch

ground allspice

4

– 5 whole cloves

15

– 20 black peppercorns

675

gr.

/ 1 ½ pounds thick tube spaghetti

120

gr.

/ 4 ounces Kefalotyri or Parmesan cheese

grated

2

egg yolks

beaten

1

cup

Greek fresh Anthotyro or Myzithra cheese

drained, crumbled
4 cups French Béchamel
¼

cup

butter

3

tablespoons

all-purpose flour

3

cups

milk

1

cup

heavy cream
Instructions
1. In a large skillet, heat 2 tablespoons of extra-virgin Greek olive oil and sauté the onion until translucent, 5 – 7 minutes. Add meat and continue stirring until meat begins to brown. Add garlic, tomatoes, spices, peppercorns, and salt. Lower heat and simmer, covered, for 35 – 40 minutes, until liquid has been absorbed and meat is cooked (add water if necessary). Remove pan from heat, let meat cool slightly. Remove whole spices.

2. While meat is simmering, boil the pasta to al dente. Remove, drain and shock in cold water. Drain. Toss with 1 – 2 tablespoons extra-virgin Greek olive oil and half the grated cheese.

3. Preheat oven to 180°C (350°F). Lightly oil a large baking pan, 25 x 35 cm and 8 cm deep / 10 x 14 inches and 3,5 inches deep.

4. Make béchamel: In a medium saucepan, heat the butter over medium heat. When it begins to bubble, add the flour and stir vigorously with a wire whisk for several minutes until the flour turns pale gold. Add the milk, stirring all the while; add the heavy cream. Continue stirring the béchamel over medium heat until very thick, 10 to 12 minutes. Season with salt . Remove from heat, cool slightly, and add egg yolks, stirring vigorously. When done add the Greek Anthotyro or Myzithra cheese and half the remaining grated cheese.

5. Toss the pasta with a little of the béchamel. Spread half of it on the bottom of a large baking pan. Pour in meat sauce, spreading evenly over pasta. Sprinkle with 1 – 2 tablespoons grated cheese. Make a second layer of the pasta. Pour béchamel over pasta, making sure it's evenly spread over top of pan. Sprinkle with remaining grated cheese.

6. Bake for about 45 minutes, until béchamel thickens and swells and a golden brown crust forms on top.