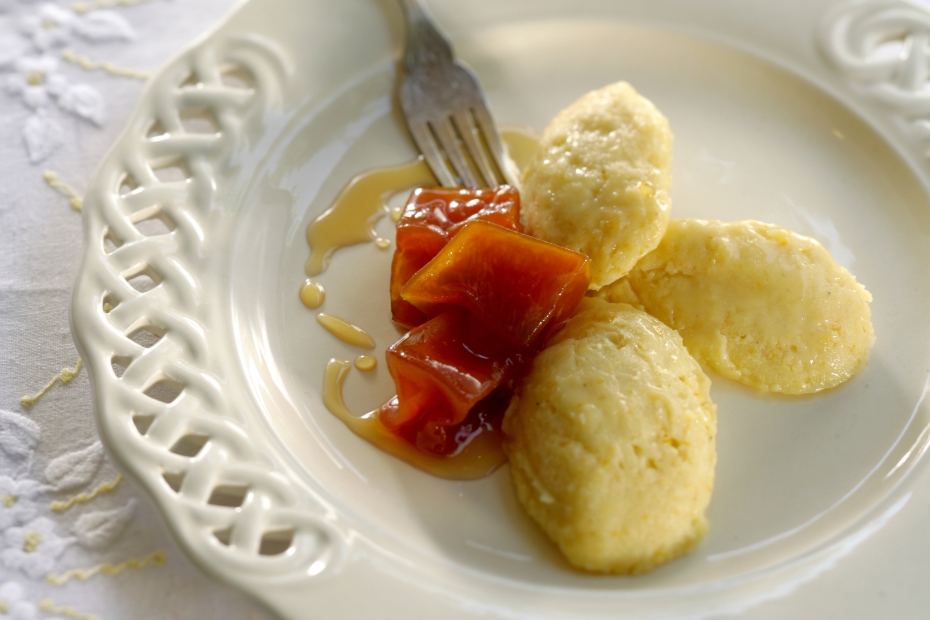 Buttery Northern Greek Cornmeal Cream with Pumpkin Preserves
---
Here's a really unusual, delicious recipe for sweet corn cream that comes from Northern Greece. The dish is adapted from my book, The Country Cooking of Greece. It's a great example of elegant but rustic Greek cuisine.
Ingredients
4

cups

water

½

teaspoon

salt

1

cup

finely ground yellow cornmeal

½

cup

sugar

1

teaspoon

finely grated orange or lemon zest

8

tablespoons

butter

divided 1 ½ cups pumpkin, eggplant, quince or orange spoon sweet* or any whole fruit preserved in syrup

Fresh mint leaves for garnish

* Spoon sweets are a staple in the Greek country pantry. They are basically preserves of either whole or chopped fruit

the rinds of citrus fruits, immature nuts and some young vegetables put up either in simple syrup or grape must molasses. They are available in Greek and Middle Eastern food stores all over the United States and Europe.
Instructions
1. Bring the water and salt to a boil in a medium-size saucepan. As soon as it comes to a rolling boil, stir in the cornmeal in a slow, steady stream, mixing with a wire whisk as you go.

2. Add the sugar, orange zest, and half the butter. Stir continuously over low-to-medium heat until the sugar dissolves and the mixture starts to come away from the sides of the pan, about 40 minutes.

3. Let cool completely.
To serve
Either spread into a smooth circle or mound, or dip 2 tablespoons into the remaining melted butter and scoop out a heaping spoonful of the cornmeal, working it with the two spoons to shape like quenelles. Place 2-3 such mounds on each serving plate or spoon them all on a large, round platter.

Top with the preserves of your choice. Drizzle some of the syrup on top. Garnish with fresh mint leaves and serve immediately.