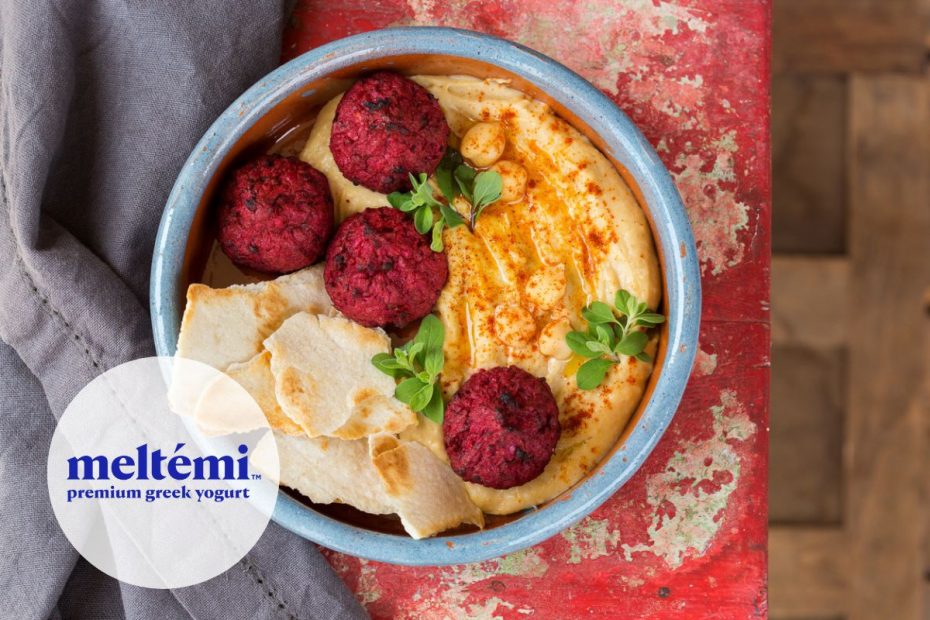 Beetroot Falafel with Greek Yogurt Hummus
---
Falafel is one of the great dishes of the Eastern Mediterranean, found in almost every culture in one form or another. These humble chickpea patties, balls or fritters pack a nutritional punch and a lot of flavor. In Greece, we call chickpea fritters or patties revithokeftedes and they are typically a specialty of specific Greek islands, especially in the southeastern Aegean. On Rhodes, for example, they are something of a national dish. We often serve them with a side of G reek yogurt, which I have added here, too, but mixed into hummus. The chickpea is also amazingly versatile and in this perfect example of the delicious Mediterranean diet, I've taken some poetic license and have added shredded beets. The end result is not only delicious, it's gorgeous.
Ingredients
2

cups

cooked chickpeas

canned are fine

1

cup

coarsely chopped parsley plus more for garnish

½

cup

chopped fresh mint

1 ½

cups

shredded raw beets

1

scant teaspoon ground cumin

A pinch smoked paprika

1

scant teaspoon ground turmeric

2

tablespoons

dark tahini from unhulled sesame seeds

2-3

tablespoons

fresh lemon juice

1-3

tablespoons

all-purpose or almond flour

as needed

3

tablespoons

extra virgin Greek olive oil
For the hummus
1

cup

cooked chickpeas

2

tablespoons

dark tahini

1

teaspoon

minced garlic

1/2

cup

plain Greek yogurt

2

dried red chilies

chopped

1

heaping teaspoon ground cumin

3

tablespoons

fresh lemon juice

2

tablespoons

extra virgin Greek olive oil

A few drops of hot sauce

optional

Paprika for garnish

Toasted pita to serve

optional
Instructions
Combine the cooked, drained chickpeas, garlic, and fresh herbs in the bowl of a food processor and pulse on and off for a minute or so until the mixture is mealy and crumbly. Add the shredded beets, cumin, smoked paprika, turmeric salt, pepper, tahini, and lemon juice, and pulse for about half a minute, or until mealy. It should have texture and not be a smooth paste. If it is too wet add a little flour and pulse quickly to combine. If too dry, add more tahini or lemon juice. Adjust seasonings as desired.

Scoop out 1 ½-tablespoon portions of the falafel mixture, and form them into balls.

Arrange falafel on the parchment-lined baking sheet. Brush with oil for a crispier texture, and bake for 20-30 minutes or until crispy outside.

While the falafel bakes, make the hummus: Combine everything in the bowl of a food processor and process until smooth, adjust the texture with either more yogurt or olive oil, and the flavors with additional salt, lemon juice, cumin or hot sauce.

Enjoy with sliced cucumbers and 1/4 cup Greek Yogurt for each portion. Garnish with chopped parsley and serve.

Serve the falafel with the Greek yogurt hummus, sprinkled with a little paparika.
Want to learn more easy, healthy Mediterranean diet recipes? Sign up for my online course "Mastering the Mediterranean!"