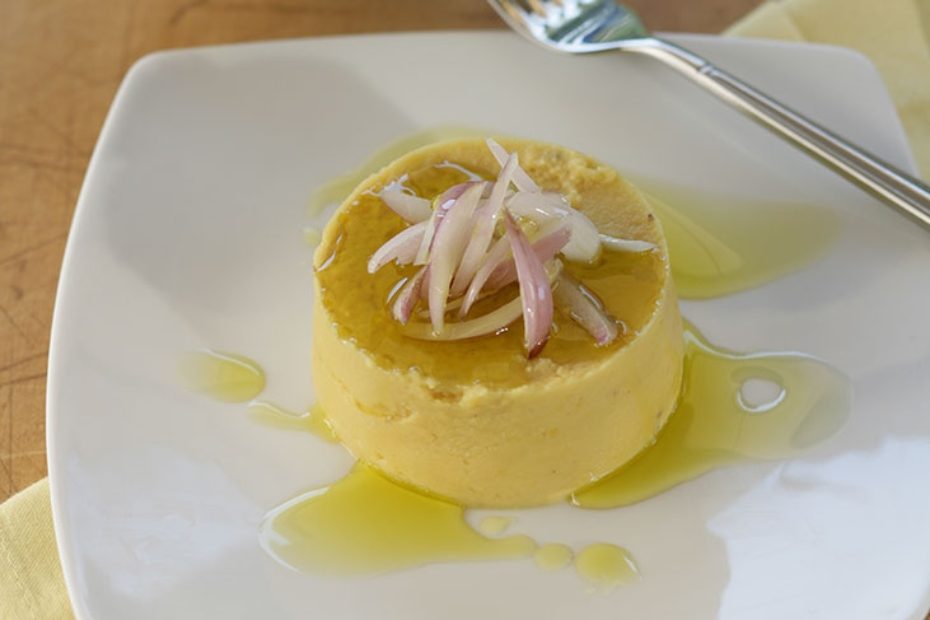 Yellow Split Pea Purée (Fava)
---
Fava, this simple puree of yellow split peas made velvety with a copious amount of great Greek olive oil, and tangy with a spritz of lemon, is one of the great meze dishes of Greek cuisine. It's also one of the most versatile, since you can marry fava with almost anything. To find the fava itself, as well as toppings like capers, caper leaves and wonderful Greek olive oil for garnish, go to my online store
here
.
Ingredients
2/3

cup

extra virgin olive oil

1

medium red onion

finely chopped

1

cup

yellow split peas

rinsed and drained

5-7

cups

water

Salt and freshly grated black pepper to taste

1

tsp.

dried oregano

2-3

Tbsp.

red wine vinegar or fresh

strained lemon juice

1-2

onions

coarsely chopped and olive oil for garnishing
Instructions
1. Heat 2/3 cup olive oil in a large pot. Add the chopped onion and cook until soft, 6 to 8 minutes. Add the yellow split peas and toss to coat with the olive oil. Stir for 1 to 2 minutes. Add enough water to cover split peas by 5 cm (2 inches). Cover and bring to a boil over medium heat. Reduce heat, uncover, and cook over very low heat, stirring occasionally to keep from sticking, for 1 ½ to 2 hours, until the split peas are completely disintegrated. During the course of cooking, add water.

2. When the split peas have reached the consistency of loose mashed potatoes, remove from heat and add salt, pepper, oregano and vinegar to taste. Cover with a cloth and let sit for 1 to 2 hours to cool and solidify. Spread on a plate or platter, sprinkle with raw onions and drizzle generously with remaining olive oil.
Notes
Note: You can purée the split peas with olive oil using a food processor or immersion blender for an extra smooth final texture.
Tip: Add a few teaspoons of milk, which makes the fava even smoother and creamier.