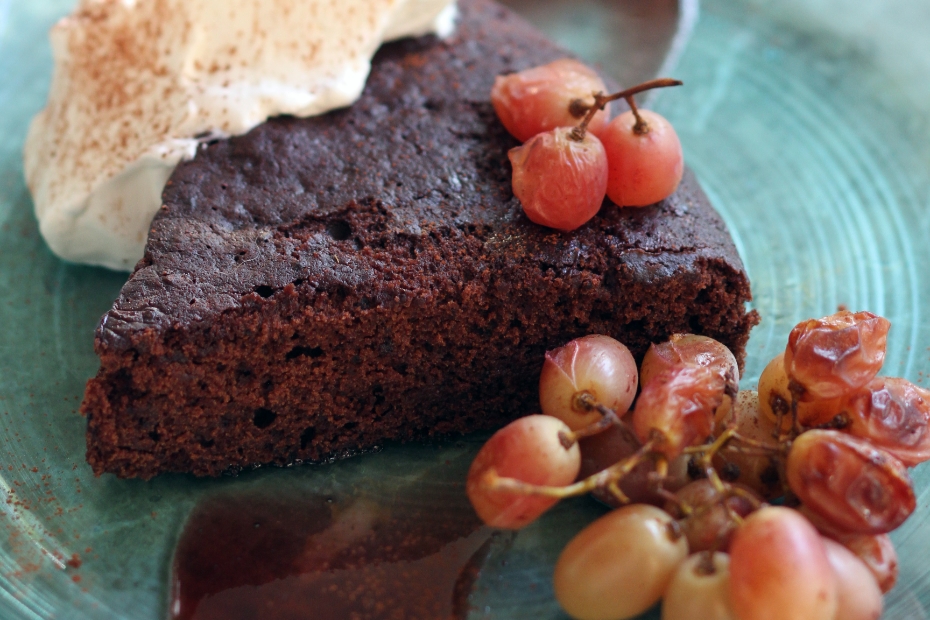 Xinomavro Chocolate Cake
---
In the northern Greek environs of Naoussa, one of Greece's premiere red-wine producing regions, the Xinomavro grape reigns supreme. A visit up there while we were filming the show taught me that locals don't just drink their beloved tannic red wine, they also use it to cook with. Grape molasses cookies with red wine jelly, Xinomavro-filled chocolates, sourdough bread starter with the wine, and Xinomavro biscuits were just a few of the novelties I came across. The tannic red wine pairs beautifully with chocolate, so I created a dark chocolate cake to honor the match. To find some of the artisinal Greek products you'll need to make this, visit my online shop
here
, where you'll discover a host of lovingly curated Greek ingredients.
Ingredients
Butter and flour for greasing pan

6

tablespoons

85 grams unsalted butter, at room temperature, plus extra for greasing pan

3/4

cup

145 grams firmly packed dark brown sugar

1

cup

white granulated sugar

divided

1

large whole egg and 1 large egg yolk

at room temperature

1

teaspoon

vanilla extract

1 ¾

cup

Xinomavro or other dry

tannic red wine, divided

1

cup

plus 1 tablespoon all-purpose flour

plus extra for dusting pan

1/2

cup

41 grams Dutch cocoa powder

1/8

teaspoon

baking soda

1/2

teaspoon

baking powder

1/4

teaspoon

ground cinnamon

1/4

teaspoon

table salt

For the syrup

1

cinnamon stick

6

whole black peppercorns
For garnish
8 to 10

small clusters of red seedless grapes

Whipped cream

if desired

Cocoa powder or a grinding of black pepper
Instructions
Preheat the oven to 325F/160C.

Line the bottom of a 8-inch round cake pan with parchment, and either butter and lightly flour the parchment and exposed sides of the pan, or spray the interior with a nonstick spray.

In a large bowl, on the medium speed of an electric mixer, cream the butter until smooth. Add the brown sugar and ¼ cup of the white sugar, and beat until fluffy, about 3 minutes.

Add the egg and yolk and beat well, then add the vanilla and ¾ cup of the xinomavro wine (reserving the rest for the sauce).

Sift the flour, cocoa, baking soda, baking powder, cinnamon and salt together, directly into the wet ingredients.

Mix until almost combined, then fold the rest together with a rubber spatula.

Spread batter in prepared pan. Bake for 30 to 35 minutes, or until a cake tester inserted into the center comes out clean. The top of the cake should be shiny and smooth. Remove the cake and let it cool on a rack.

While the cake is cooling, prepare the syrup and the garnish: For the syrup, cook the remaining cup of wine and ¾ cup of white sugar together with the cinnamon stick, peppercorns and cloves in a small saucepan over medium heat until the mixture is reduced by about half and reaches the consistency of a thick syrup. Strain it and discard the cinnamon, peppercorns and cloves.

For the garnish, when the cake is done, raise the oven temperature to 375F / 190C. Place the grape clusters on a shallow baking pan lined with parchment or baking paper and roast for about 20 minutes, turning, until wrinkled and pleasantly "leathery." Remove and set aside.

To serve: Cut the cake into serving pieces and top each piece with a few individual roasted grapes or a small cluster of roasted grapes. Drizzle with the syrup, and spoon a little whipped cream, if desired, onto the plate or cake. Sift a little cocoa onto the plate or grind a little black pepper over and around the plate and serve.