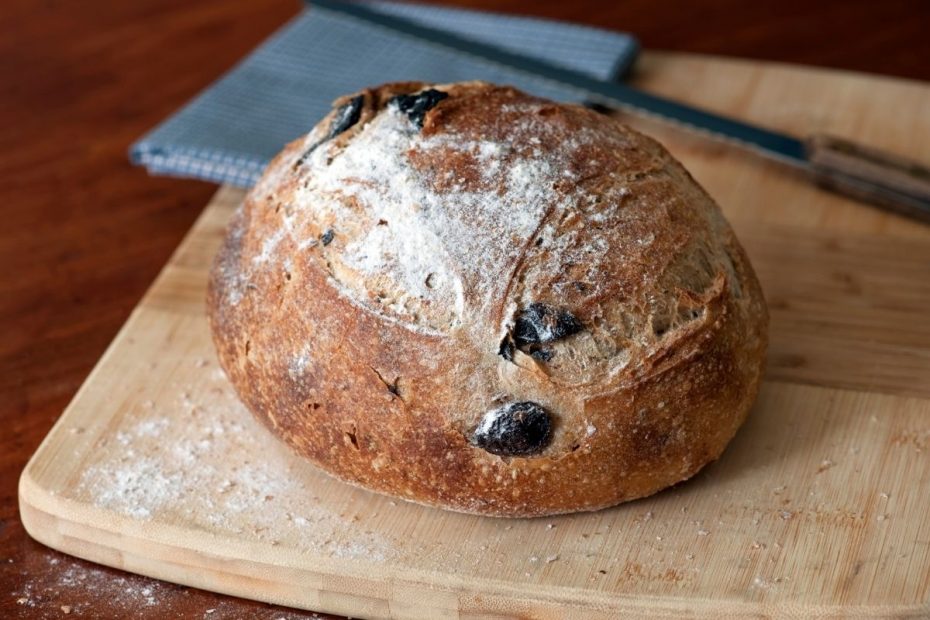 Whole Wheat – Kalamata Olive Bread
---
Is there anything better than the smell of freshly baked bread? This Greek recipe for olive bread contains the entire Mediterranean diet in every slice: grains and olive oil with a spritz of ouzo for flavor, healthy herbs and tangy Kalamata olives. Enjoy it for breakfast, lunch or dinner!
Ingredients
2

teaspoons

active dry yeast

2

cups

bread or spelt flour,

plus ½ - 2/3 cup more if needed to keep dough smooth while kneading

1 ½

cups

whole wheat flour

1

tsp

brown sugar

1 1/4

cups

warm water

110 degrees F/45 degrees C

¼

cup

ouzo

1

teaspoon

salt

1

cup

chopped Kalamata olives

1

tablespoon

dried Greek oregano

1

teaspoon

crushed fennel seeds

4

tablespoons

extra virgin Greek olive oil
Instructions
Combine the yeast, ½ cup warm water, 2/3 cup of bread or spelt flour and sugar in a large bowl, stirring well. Cover and let stand for about 15 – 20 minutes, or until the mixture starts to bubble.

Add the remaining warm water, ouzo, salt, flours, olives, olive oil, oregano, fennel seeds, and half the olive oil. Mix in the bowl by hand or with a large wooden spoon until a dough mass forms and continue mixing in the bowl until the dough is smooth and the bowl clean, adding flour if needed to get the dough to the desired smooth, firm consistency and texture. The kneading process will take about 10 – 12 minutes. You can also do this in a large stand mixer outfitted with a dough hook. The sides of either the mixer bowl or kneading bowl should be smooth.

Remove the dough and shape it into a large ball. Spread half the remaining olive oil around the sides of the bowl and place the dough inside. Drizzle and spread the last of the olive oil over the top of the dough with the palms of your hands. Take a small paring knife and score a cross or X over the surface of the dough. Cover well with plastic wrap or a kitchen towel and let the dough rise for about 45 minutes to an hour, until doubled in bulk.

Punch it down in the bowl and knead it again for about 5 minutes. Cover it again in the same way and let it rise until doubled in bulk, about a half hour.

Preheat the oven to 500F/260C. Place a shallow pan of water on the bottom of the oven. When the dough has risen the second time, place it on an oiled sheet pan or inside a large, well-oiled loaf pan and let it rise again for about 15 to 20 minutes. Bake the bread in the hot oven for 15 minutes, then reduce heat to 375F/190C and continue baking for about a half hour, or until the crust is deep golden and crisp. Remove, cool and serve!
Want to learn more easy, healthy Mediterranean diet recipes? Sign up for my online course "Mastering the Mediterranean!"