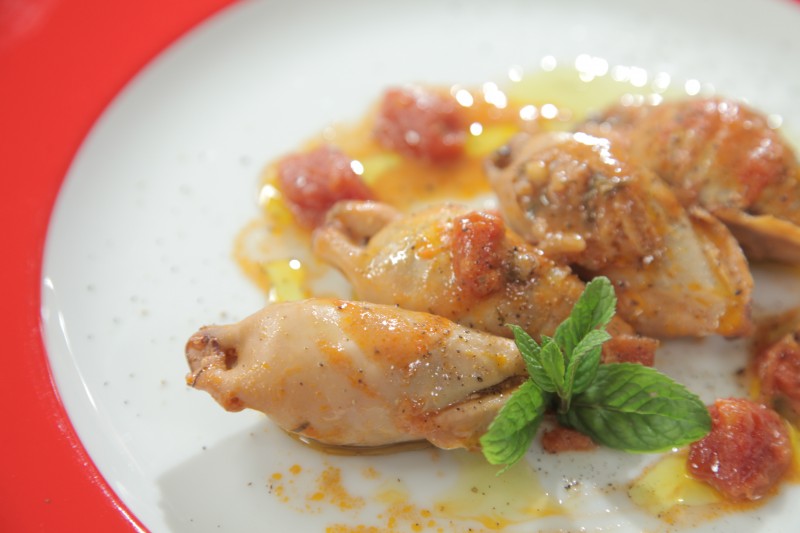 Calamari stuffed with Rice and Pine Nuts
---
One of the all-time classic Greek recipes brought to mainland Greece by the Mikrasiates, the Asia Minor Greeks, who emigrated en masse in 1922, forever changing the flavor and profile of Greek cuisine. Make sure to use Greek olive oil in this recipe for the most authentic flavor! To find a range of Greek regional olive oils, go to my online store
here
.
Ingredients
1

– 1 1/2 kilo

2.2-3.3 lbs large fresh calamari

1/2

cup

extra virgin Greek olive oil

1

cup

onion

finely chopped

1/3

cup

long-grain rice

1/2

cup

pine nuts

2

large garlic cloves

chopped

1/4

cup

raisins

3/4

dry white wine

3/4

cup

fresh parsley

chopped

1/4

cup

dill

chopped

4

tbsp.

fresh mint

chopped

2

cups

fresh tomatoes

peeled, seeded and chopped
Instructions
To wash and clean the calamari: chop off the tentacles as close to the eyes as possible, this way they will not fall apart. Hold their body -the "tube"- with one hand and remove the intestines with the other. Pull out the small transparent cartilage. Remove the beak. Discard the intestines, eyes, beak and bone. It is not necessary to peel off the membrane but if desired you can remove it by pulling it back by hand. Rinse the calamari inside out and drain.

Finely chop the tentacles.

In a large, heavy frying pan heat 1/4 cup olive oil and sauté the onion until it wilts. Add the rice, tentacles, wine, garlic and sauté on medium-low heat for 2-3 minutes. Add the pine nuts, raisins, parsley, dill and mint and stir with a wooden spoon. Keep the pan covered until almost all liquid has been absorbed and the rice is soft but only half cooked, approx. 6 minutes.

Remove from the heat and let the stuffing sit until it is cool enough to handle.

Use a small spoon or a butter knife to stuff 3/4 of each calamari with the rice stuffing. Use toothpicks to close them up. Add the rest of the 1/4 cup olive oil in a large saucepan, carefully place the calamari inside it, pour in the rest of the 1/2 cup wine, add the chopped tomatoes and enough water to cover the calamari. Season with salt and pepper, as desired. Bring the sauce to a boil, reduce heat and simmer the calamari covered for about 1 hour or until tender.

Remove and serve hot or warm.