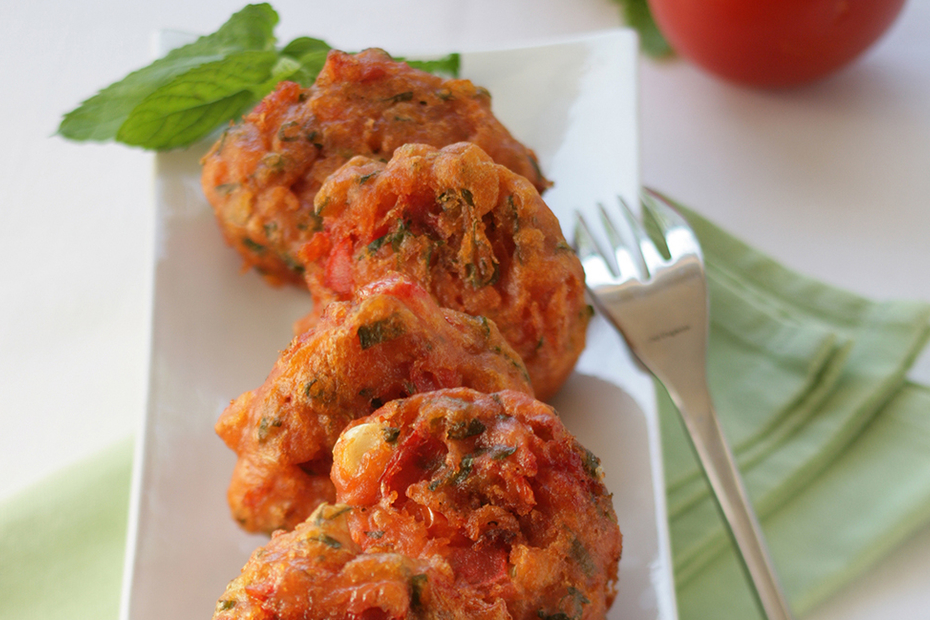 Tomato Fritters / Tomatokeftedes
---
All over the Aegean you can find vegetable fritters and they are a great way to make vegetables--everything from wild greens to cauliflower to tomatoes, chickpeas, and more--fun and interesting. Kids love these crispy treats. This particular recipe is from the Cyclades. Tomato fritters are a traditional meze and main course vegetarian dish in Santorini, Syros, and Tinos. It's really important to drain the tomatoes as thoroughly as possible. If there is too much juice the fritters will be soggy. The tomato variety used in Santorini is uniquely suited to the island's bone-dry climate. It's a small "waterless" tomato with a thick skin and an incredibly intense tomato flavor. These fritters, and all veggie fritters, go great with Greek yogurt and with tzatziki.
Ingredients
1 1/2

lbs.

/ 750 gr. firm

ripe plum or cherry tomatoes, grated or finely chopped, very well drained

3

scallions

white and tender green parts, finely chopped

2

Tbsp.

fresh flat-leaf parsley

finely chopped

2

Tbsp.

fresh mint

finely chopped

1 ¼

– 1 ½ cups all-purpose flour

as needed

½

tsp.

baking powder

Extra virgin olive oil or vegetable oil for frying
Instructions
1. In a large bowl, mix together the grated or chopped tomatoes, scallions, herbs, salt and pepper. Combine 1 ¼ cups of the flour and the baking powder in a small bowl and add it to the tomatoes, mixing well. Add flour if necessary to give the mixture the consistency of a thick batter. Taste and adjust the seasoning with salt and pepper.

2. Heat about 4 cm (1 ½ inches) of oil in a large, heavy skillet over medium-high heat. When the oil is very hot, drop a tablespoon of the batter at a time into the skillet and fry the tomato fritters on both sides until golden. Remove with a slotted spoon and let drain on paper towels. Serve hot.