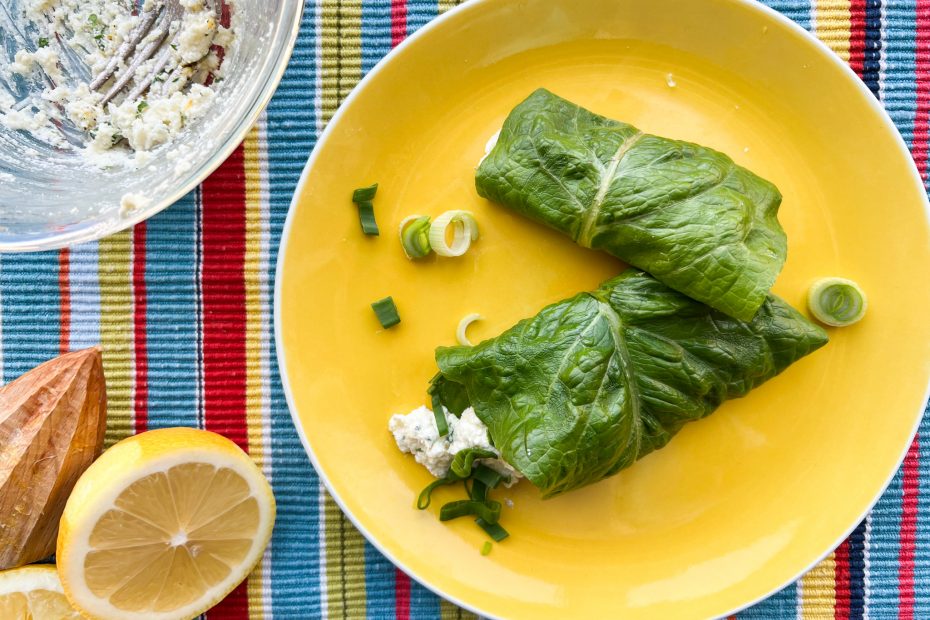 Spring Greek Salad Wrap
---
Greek salad is a legendary part of the Greek-Mediterranean diet, and there are many Greek salads to speak of, each enjoyed in its season with whatever is fresh. This Greek salad is typically savored in spring, when tender lettuce is at its peak. It's usually served shredded and dressed with a simple olive oil-lemon vinaigrette. I've taken the idea and transformed it into a wrap to enjoy on the go or even at home on your desk as you work, as an easy way to enjoy a salad without needing a fork!
Ingredients
6

– 10 fresh romaine lettuce leaves

1

cup

Greek feta

2

scallions

1

small bunch of fresh mint or dill

Zest and strained juice of 1 large lemon

3

tablespoons

extra virgin Greek olive oil

Black pepper to taste
Instructions
Wash and spin dry the lettuce leaves, then trim them.

Place the feta in a mixing bowl and mash with the olive oil until smooth and creamy.

Chop the scallions, going as far as possible up the greens, discarding any tough parts.

Chop the fresh mint or dill and add that to the feta. Add the lemon zest and juice to the feta and mix well, seasoning with a little black pepper.

Trim the tough bottom rib from the lettuce leaves. Take a tablespoon of the feta mixture and place on the lettuce leaves. Sprinkle with chopped scallions and roll up. Enjoy!
Want to learn more easy, healthy Mediterranean diet recipes? Sign up for my online course "Mastering the Mediterranean!"
Want to learn more easy, healthy Mediterranean diet recipes? Sign up for my online course "Mastering the Mediterranean!"