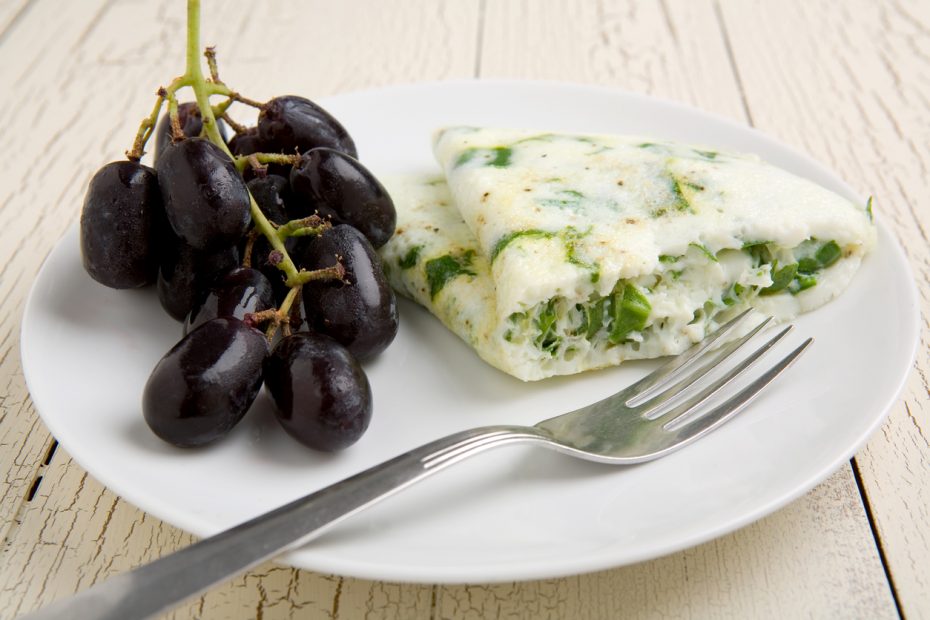 Spinach-Feta Egg-White Omelet
---
This Spinach-Feta Egg-White Onelet is a light version of a Greek diner classic. // Here's a tip on how to make this the best possible way: Cook the omelet at a low temperature. This will prevent it from browning and will create a fine texture. Make sure to use a rubber spatula when cooking the omelet. Metal spatulas will break the egg whites and make it impossible to transfer the omelet in one piece. If you are adding toppings to the omelet, warm them first if you're planning to add them at the end. They won't be heated through in the time it takes to cook the omelet.
Ingredients
3

egg whites from large eggs

1

tablespoon

water

1

cup

Swiss chard or spinach

stems trimmed, leaves chopped

1

tablespoon

extra-virgin Greek olive oil

1/4

cup

crumbled feta

cottage cheese or ricotta

Diced tomatoes for serving

optional
Instructions
In a medium bowl, whisk together egg whites and water until frothy. Season with salt and pepper.

In a nonstick skillet, heat the olive oil over medium-high heat. Add chard and season with salt and pepper. Stir until the leaves are wilted and tender, about a minute or two.

Pour in the whisked egg whites and cook until almost set. Using a spatula, lightly lift up sides around the outside of the omelet and let any uncooked egg whites run underneath.

Sprinkle the cheese on top of the omelet, mostly in the middle. Fold each side of the omelet over onto itself, covering the cheese.

Slip out of the pan onto a plate and serve, garnished if desired with diced tomatoes.