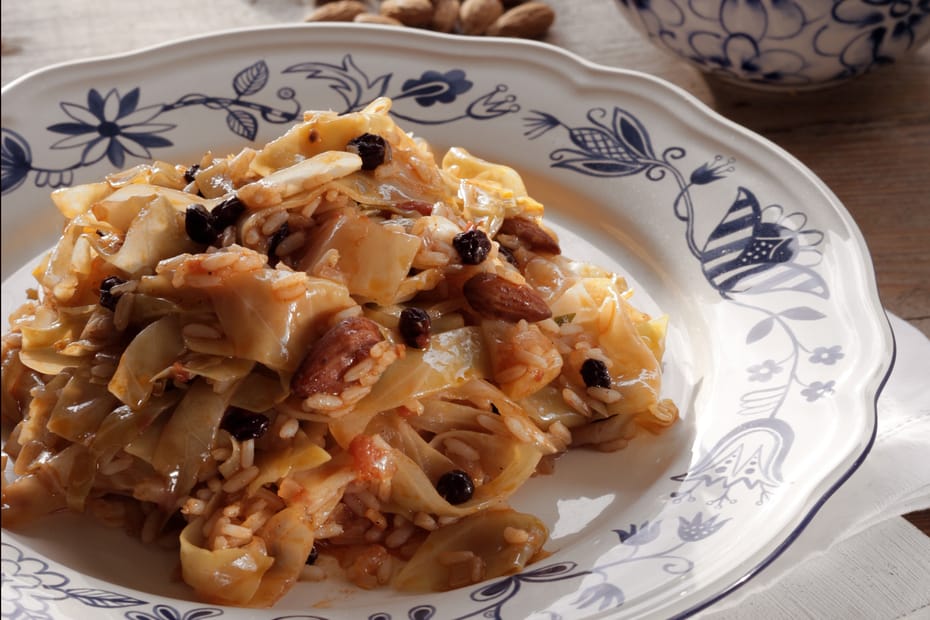 Spiced Cabbage Rice from Thrace
---
This is a great vegan or vegetarian main course, originally from the northern Greek province of Thrace, where the food is a little spicier than it is elsewhere in Greece. You can also serve this as a side dish for grilled meat, chicken, and game. It's great with duck and it's even great with Thanksgiving turkey.
Ingredients
2

Tbsp.

extra virgin olive oil

preferably Greek, or butter

1

cup

coarsely chopped onion

3 ½

cups

washed

thinly shredded green cabbage

1

cup

peeled and chopped plum tomatoes

2 ¾

cups

water

1

cup

long-grain rice

preferably brown rice

½

cup

dark seedless raisins

½

cup

finely chopped blanched almonds*

¼

tsp.

cinnamon

Pinch

of cayenne
Instructions
1. In a heavy stewing pot, heat the olive oil or butter and sauté onion until soft, 2 to 3 minutes. Add cabbage and sauté over medium heat, stirring frequently with a wooden spoon, until soft and translucent, 3 to 5 minutes.

2. Add tomatoes and water and bring mixture to a gentle boil. Add rice, raisins, almonds, cinnamon, cayenne, and salt. Lower heat and simmer, uncovered, stirring frequently, until liquid is absorbed and rice cooked.

3. Place mixture into a lightly buttered mold and allow to set for 8 to 10 minutes, then turn out onto a platter. Or toss gently in serving bowl. Serve warm.
Notes
* You get the most flavorful blanched almonds by doing the blanching yourself. Take whole, unroasted almonds and drop them into boiling water for about 45 seconds. Remove, drain in a colander and rinse with cold water. Remove the skins by squeezing the almonds, one at a time, between your thumb and index finger. The skins should slip right off.