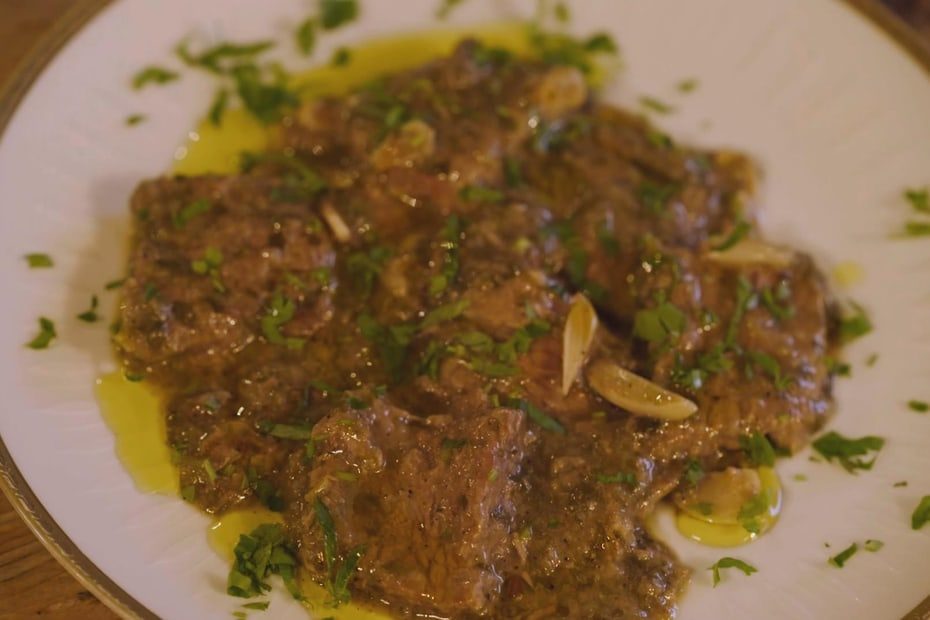 Soffrito - Tangy Sliced Beef in Vinegar-Parsley Sauce
---
This classic Greek recipe is one of the most famous dishes of Corfu and another remnant of the island's illustrious Venetian past. This version, by a well-known local cook, is delicious. If you're a fan of easy, tangy meat dishes that can be whipped up for company or a weeknight meal, this is it!
Ingredients
1

pound

beef

veal or chicken fillets (cut thin as for schnitzel)

Flour as needed

(about 1 - 1 ½ cups)

Olive oil for frying

3

cups

chopped fresh flat-leaf parsley

divided into 1 batch of 2 ½ cups and one ½ cup for garnish at the end

8

garlic cloves

sliced thin

¼ - ⅓

cup

white wine vinegar

(to taste)

½

cup

dry white wine

½

cup

hot water

or more, as needed

Strained juice of a half or whole lemon

to taste
Instructions
Using a mallet on a clean surface, pound the meat fillets to get them as thin as possible without tearing, about ⅛-inch thick. Cut into pieces about 3-inches long and wide.

Season the flour generously with salt and pepper and spread out onto a plate.

Heat 2 - 3 tablespoons of olive oil in a large, wide frying pan over medium heat. Coat the meat in the flour, shaking off any excess, and fry in batches until lightly browned, turning to cook on both sides. Repeat until all the meat is browned. Set it aside on a plate as you go. Replenish the oil as needed. Don't wash out the frying pan.

Add a tablespoon or so of olive oil to the bottom of a wide, shallow pot or deep frying pan. Spread a heaping handful of parsley on the bottom and sprinkle with about a third of the garlic slices. Add enough browned meat slices to cover the surface of the pan. Repeat this layering of parsley-garlic and meat slices until everything is in the pan.

Reheat the frying pan in which you've browned the meat and deglaze with the wine and vinegar, scraping up any stuck bits of meat. Pour this mixture over the layered meat and parsley. Add enough hot water to come about a third of the way up the contents of the pan. Cover and cook over medium-low heat for about a half hour, or until the meat is tender and the sauce thick. Drizzle with fresh lemon juice and serve garnished with remaining fresh, chopped parsley.