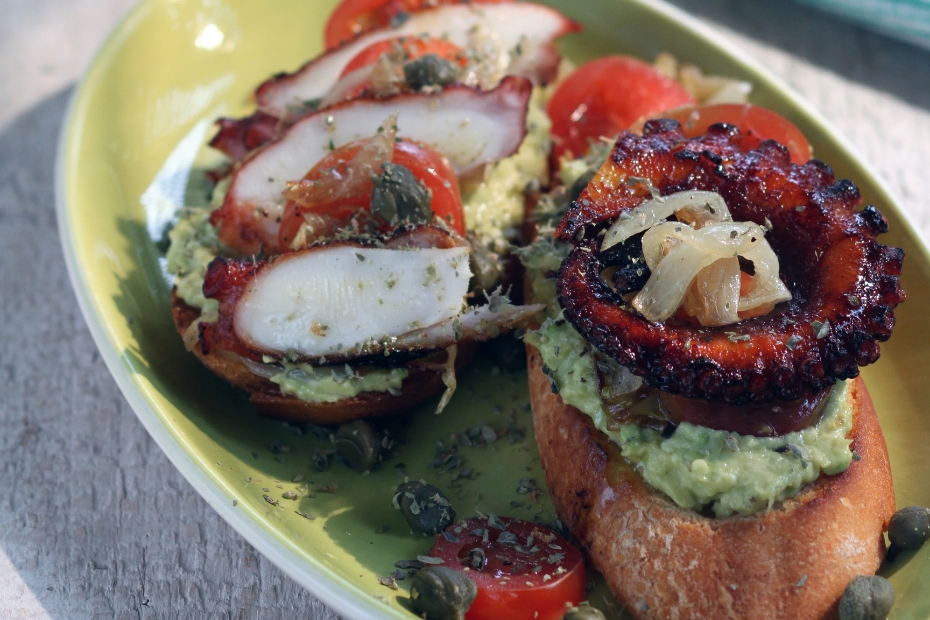 Seared Octopus on Avocado Toast
---
Greeks own grilled octopus! Here is one of my favorite ways to make it indoors. It pairs beautifully with avocado toast and the colors are stunning, too! For the olive oil, balsamic and Greek oregano you need for this recipe,
shop here
.
Instructions
Cut the head off the octopus and discard. Cut out the beak and cartilage-like mouth. Discard. Cut the octopus into 8 pieces (tentacles).

Place the octopus in a medium size saucepan. Cover and cook over low heat. When the octopus begins to exude its own liquid, add two garlic cloves, the bay leaves and peppercorns. Cook, covered, until the octopus is tender but firm, about 40 minutes. Remove the octopus, strain the juice from the pot and reserve, covered and refrigerated, for another use. (It is great inside either skordalia or hummus, and will last two days in the fridge.)

While the octopus is cooking, heat 2 tablespoons olive oil in a medium-size, heavy skillet over medium heat and cook the onions until lightly golden, stirring occasionally, about 15 minutes. Set aside until ready to use.

Make the avocado mash: Remove the pulpfrom the avocados and transfer to a bowl. Mash with a fork, seasoning to taste with salt, balsamic, and hot sauce.

Heat a ridged stovetop griddle over medium high heat. Brush the griddle with 1 – 2 tablespoons olive oil and add the octopus tentacles and remaining garlic cloves. Sear the octopus until dark and nicely charred. Remove.

In the same griddle, sear the bread, over high heat with a little more olive oil in the pan, as needed. Turn to brown on both sides.

To serve: You can either slice each tentacle into thin rounds or serve whole. Spread a little of the avocado mash over each of the toasted bread pieces. Garnish with either a sliced or whole charred octopus tentacle and a bit of the cooked onions and a few pieces of the tomato halves. Sprinkle with a little oregano, capers, and black pepper to taste and drizzle, of desired, with a little olive oil. Serve.
Love vegetables? Want to learn more great plant-based Mediterranean dishes? Enroll in my online  class "Baked Vegetable Classics!"