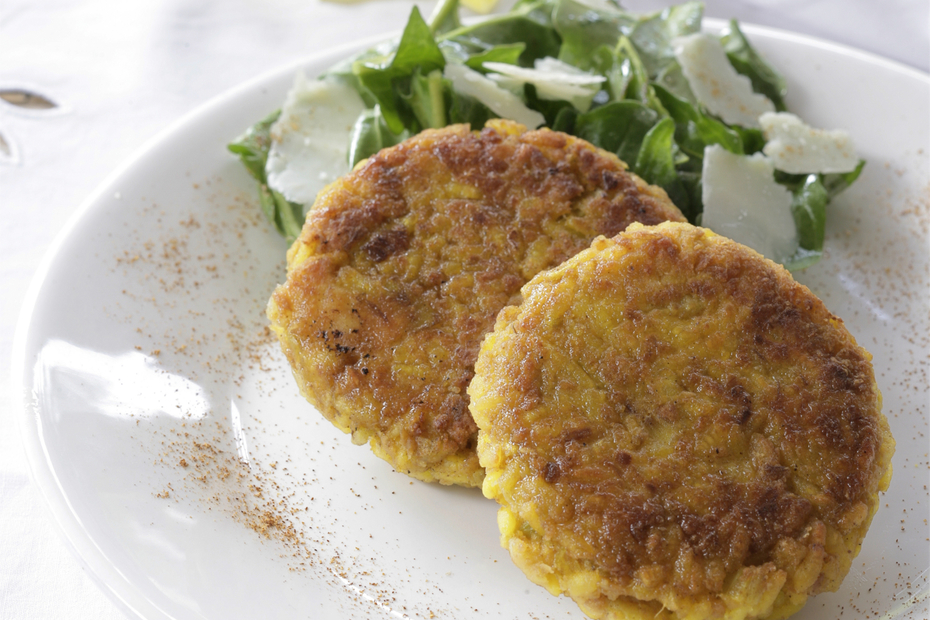 Saffron-Leek Pilafi Fritters
---
Prassorizo, or leek and rice pilaf, is a classic Greek country dish. I took that basic idea one step further in this recipe, by adding saffron and turmeric to the mixture and transforming it into patties. You can do this with leftover prassorizo, too. It's wonderful with a simple green salad.
Ingredients
3

tablespoons

Greek extra virgin olive oil

1

large leek

trimmed and chopped, including the green part of the stalk

1

cup

Greek nihaki or other short grain rice

1

cup

vegetable stock

1

cup

water

Pinch

of turmeric

1/4

teaspoon

saffron powder or a pinch of saffron threads

1

small egg

½

– 1 cup breadcrumbs

½

cup

grated Kefalotyri or Parmesan cheese

Flour for dredging

Oil for frying
Instructions
Arugula and some parmesan or other hard cheese, shaved for a simple salad

Heat the olive oil in a medium pot and cook the leek and garlic until soft and lightly colored. Add the rice, stir to coat in the oil, and add turmeric, stock and water. Season with salt and pepper. Dilute the saffron threads if using, in a tablespoon of warm water and add to the rice. If using saffon powder, mix it into the simmering rice. Stir to distribute the saffron evenly. Simmer the pilaf covered until the rice absorbs all of the water. Remove from heat, remove lid and cover pot with a kitchen towel. Let the rice cool completely.

Mix the egg and cheese into the cooled rice. Add enough breadcrumbs to form a mass firm enough to hold its shape when formed into patties.

Shape the rice into small patties, about 2 ½ in./ 6 ½ cm in diameter. Dredge lightly in flour. Heat two inches of cooking oil in a medium pot and fry the patties a few at a time. Remove with a slotted spoon and drain on paper towels. Serve hot or warm with a simple arugula – parmesan salad.