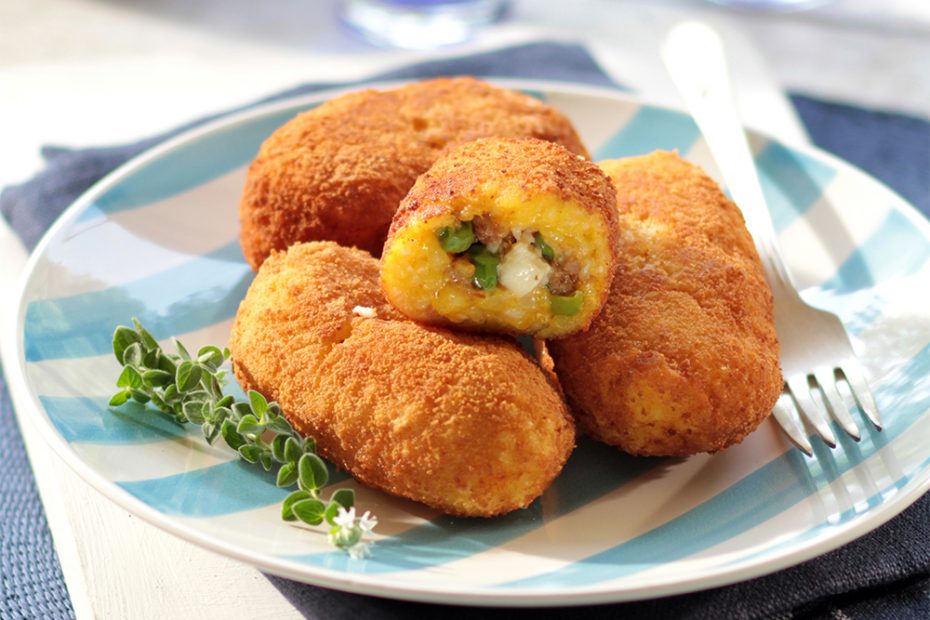 Rice Croquettes with Saffron, Peas and Ground Beef
---
These lovely rice croquettes could be a midweek meal or an excellent Greek meze. To find some of the artisinal Greek products you'll need to make this, visit my online shop
here
, where you'll discover a host of lovingly curated Greek ingredients.
Ingredients
Rice
1 ½

cups

Greek Carolina or Arborio rice

2

eggs

slightly beaten

1

pinch

Greek saffron

1

cup

grated kefalotyri or parmesan cheese
Coating
2

eggs

slightly beaten

All-purpose flour

Plain dry breadcrumbs as needed

Oil for frying
Instructions
In a wide skillet, heat the olive oil over low heat and cook the onion until wilted. Stir in the garlic. Add the ground meat and cook, stirring occasionally, until it browns lightly.

Pour in the wine and tomato paste. Season with salt and pepper. Cook over low heat for about 40 minutes, or until the meat is cooked.

Add the peas about 10 minutes before removing from heat.

Remove the skillet from the heat and let the mixture cool completely. Stir in the cheese cubes.

While the filling is simmering, cook the rice in 4 cups lightly salted water until soft. Strain.

When the rice cools, mix in two eggs, the grated cheese, and the saffron. Season with salt and pepper.

Whisk together the remaining two eggs. Season 1 ½ cups flour with salt and pepper in a flat dish or shallow bowl. Place about 1 cup of breadcrumbs in a wide, shallow bowl.

Shape the rice balls: Take a golf-ball size amount of rice and shape it into a ball. Using your thumb or index finger, make an indentation in the ball and fill with about a teaspoon of the meat mixture. Press closed to seal, keeping the shape of a ball. Continue until rice and filling are used up.

Heat several inches of oil in a wide pot or skillet. Roll the rice balls in flour first, then in the egg, then in the breadcrumbs. Fry until golden and crisp. Remove with a slotted spoon and drain on paper towels. Serve hot.