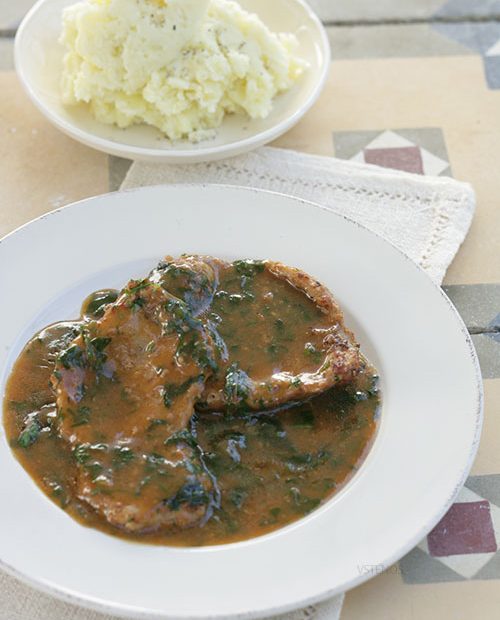 Pan-Fried Veal with a Tangy Vinegar Sauce from Corfu (Kerkyraiko Sofrito)
---
Sofrito gets its name from the Italian "fritto", or fried. The dish is traditionally made with veal, but beef can be substituted.
Ingredients
½

cup

all-purpose flour

Freshly ground black pepper to taste

Dash of cayenne pepper

2

pounds

1 kilo boneless veal, preferably top round, cut into 6 slices

6

Tablespoons

Greek extra virgin olive oil

4

garlic cloves

finely chopped

¼

cup

white wine vinegar

or slightly more to taste

1 ½

cups

beef broth

½

cup

finely chopped fresh flat-leaf parsley
Instructions
1. Spread the flour over a large plate and season with black pepper and cayenne. Lightly dredge the veal slices, tapping off any excess.

2. Heat 4 tablespoons of the olive oil in a large nonstick skillet over medium-high heat. Add the meat and brown slightly on both sides. Transfer to a plate.

3. In a separate large, deep skillet or casserole, heat the remaining tablespoons of the olive oil over medium heat. Add the garlic and stir for a minute. Add the veal. Pour in the vinegar, which will steam up and lose some of its pungency. Add the broth and season with salt. Simmer the sofrito over low to medium heat until the meat is tender and the sauce thick, 15 to 20 minutes. About 5 minutes before removing from the heat, stir in the parsley and add more vinegar if desires for a more pungent flavor. Serve the sofrito hot over mashed potatoes.