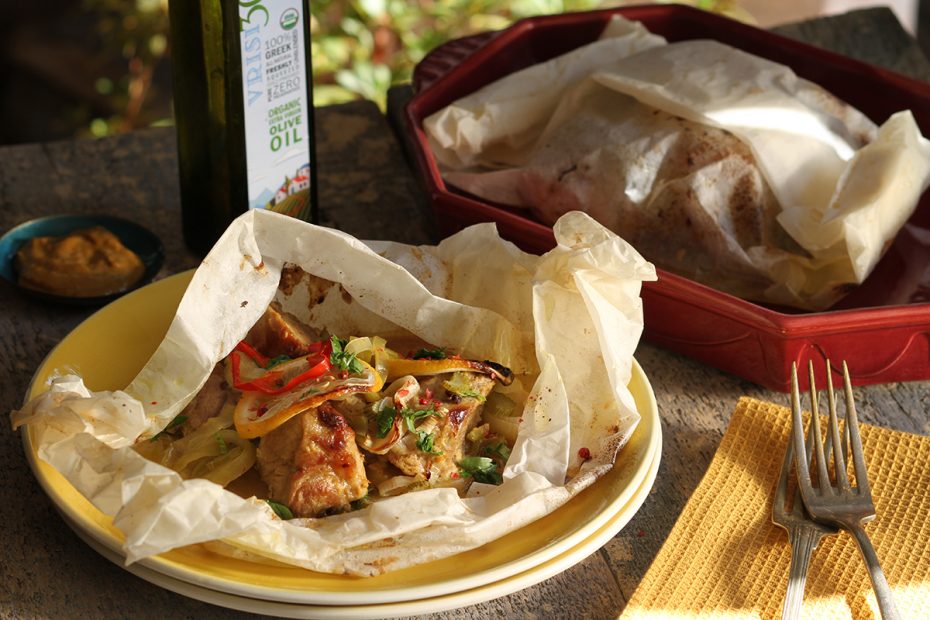 Pork Medallions Baked in Paper with Mustard, Malvazy and Orange
---
This easy, dramatic dish with pork medallions is a sophisticated version of the classic Greek dish "exohiko," or baked in paper. To find some of the artisinal Greek products you'll need to make this, visit my online shop
here
, where you'll discover a host of lovingly curated Greek ingredients.
Ingredients
3

tablespoons

Vrisi Bold extra virgin Greek olive oil

½

cup

Vrisi 36 Malvazy

Malagouzia white wine

2

heaping tablespoons Vrisi 36 sun-dried tomato-basil mustard

Juice of 1 orange

2

pounds

/ 1 kg pork tenderloin medallions

Salt and pepper to taste 1 large leek

trimmed, thoroughly washed and cut into thin rings

4

tablespoons

of chopped mixed fresh herbs: parsley

thyme, rosemary, and more if desired for garnish

1

large red onion

halved and sliced thin

3

garlic cloves

cut into slivers

1

knob of ginger

1 ½ inches / 4 cm thick, peeled and finely chopped

1

red bell pepper

seeded and thinly sliced

12

thin round orange slices
Instructions
In a large mixing bowl, whisk together the olive oil, mustard, wine, and orange juice.

Toss the pork medallions in the above mixture. Cover and let sit at room temperature for 15 minutes.

Preheat oven to 375F.

Cut six pieces of parchment paper to pieces large enough to hold and wrap the pork.

Using a slotted spoon, remove the pork from the marinade and distribute evenly in each of the six pieces of parchment. Do not discard the marinade.

Season the meat with salt and pepper. Sprinkle with the herbs, leek, onion, garlic, ginger, bell pepper and top with two orange slices. Drizzle in 1 – 2 tablespoons of the marinade per portion. Wrap up the parchment so that it forms a packet, bringing the two wide ends together and rolling up to seal in the center, then bringing the folding in the narrow ends, the way you would a gift box. You can tie up the packets with kitchen string if desired.

Place in a pan large enough to hold the packets all together in one snug layer.

Sprinkle the tops of the packets with a little water. Bake the pork medallions in paper for 1 to 1½ hours, or until very tender. Serve in the paper, garnished if desired with a teaspoon more per packet of fresh herbs. When unsealing be careful because the steam the will escape is very hot.