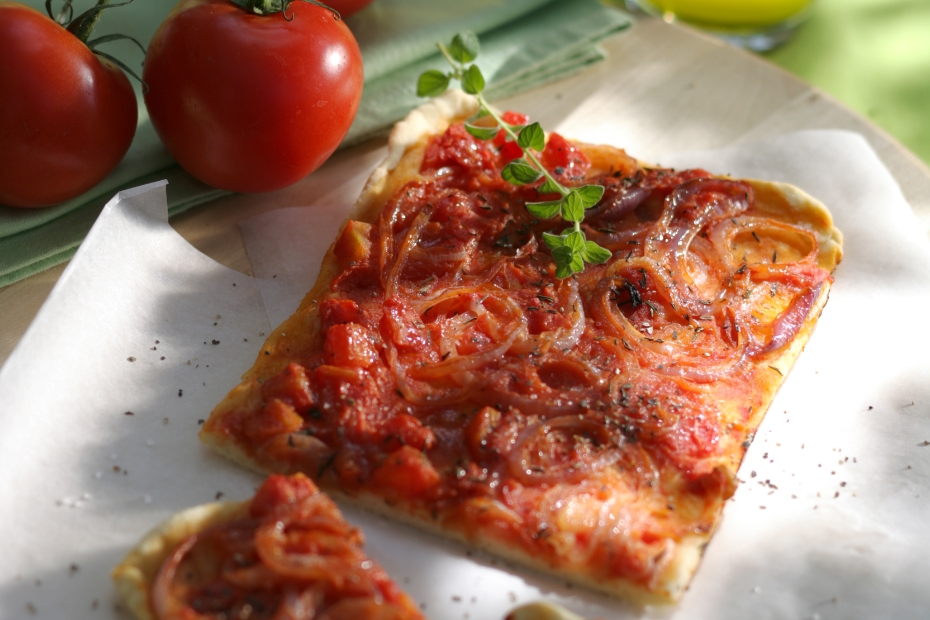 Pepper-Tomato Flatbread with Mastiha
---
This wonderful Greek recipe hails from a few Cycladic Islands but I've addedmy own twist, with a sprinkling of mastiha, the resinous spice from the island of Chios. Flatbreads topped with tomatoes, onions, herbs and more are a specialty in the bakeries on Milos and Kimolos. This Greek open-faced savory pie stands up to pizza any time of the day and is a great example of healthy indulgence, the Mediterranean diet way!
Ingredients
For Garnish
3

red or yellow roasted peppers

peeled and cut into thin strips (or fine quality, ready-made roasted peppers)

3

medium onions

cut into thin slices

½

cup

extra-virgin olive oil

3-4

medium plum tomatoes

seeded

½

cup

fresh basil

leaves only or 2-3 tsp. dried basil

1

– 1 ½ tsp. salt
Instructions
1. In a skillet, heat half of the oil over low heat and sauté the garlic. When it changes color, remove from the skillet and let the oil cool. Drain and discard the cloves.

2. In a large ceramic or stainless steel bowl, combine the yeast and the water well, and let the mixture stand for 10 minutes until it starts to bubble. Add the drained garlic oil, 2 1/2 cups of the flour, salt and rosemary and mix until a mass is formed. Knead in additional flour in quarter cup increments as needed to form a smooth, elastic dough. You can do this by hand or in a stand mixer with a dough hook.

3. Form a ball with the dough and let it stand in an oiled bowl covered with plastic wrap for 1 hour.

4. Sauté the onions over very low heat for 25-30 minutes, until soft.

5. Divide the dough in two and place each part in an oiled pan, about 10 inches in diameter. Roll out each of the balls to a circle the size of the pan. Cover with a cloth and let it stand for 15 minutes. Using the tips of your fingers, create an uneven surface on the dough. Let it stand for a second time inside the pan for about 50 minutes.

6. Preheat the oven to 375˚F/ 180˚C. Dip the tips of your fingers in the remaining oil in order to recreate small wells on the surface of the dough. Then, spread the vegetables in equal amounts, sprinkle with basil and salt and drizzle with the remaining oil. Bake for about 25-30 minutes, or until the bread is golden. You can serve it either cool or warm.
Love vegetables? Want to learn more great plant-based Mediterranean dishes? Enroll in my online  class "Baked Vegetable Classics!"