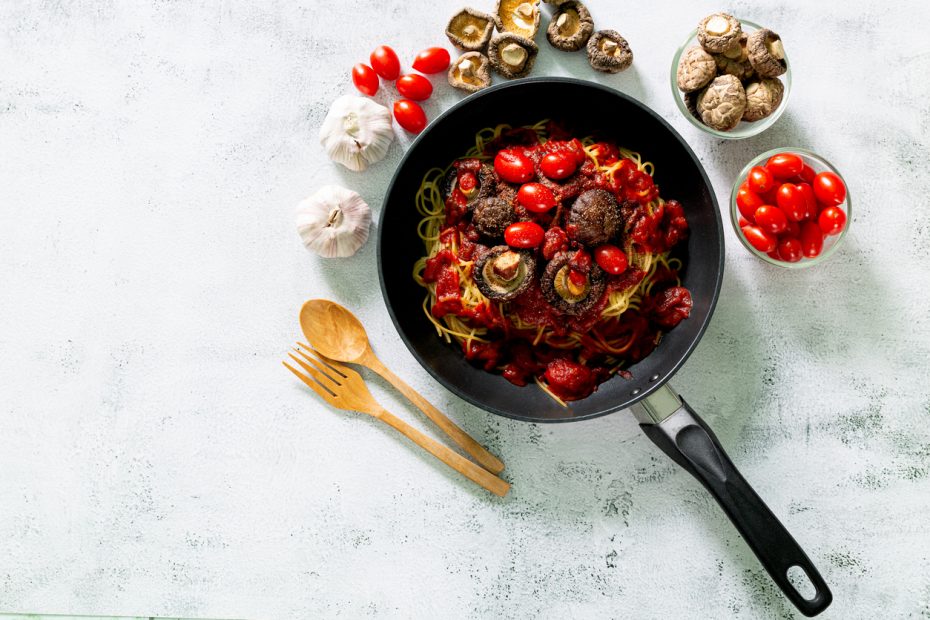 PASTA WITH TOMATOES & SHIITAKES
---
SHIITAKES AND WHY THEY'RE GOOD FOR US Shiitakes, a brown-capped mushroom with thin stems, grow to between two and four inches tall. In recent years, they have been cultivated in Greece and some local (Ikarian) mushroom connoisseurs say that they've seen them grow wild on the island. I have not been able to confirm that. Nevertheless, mushrooms are a very important component in the longevity diet of the Ikarians and we eat them in many different ways. Shiitakes are especially interesting because they contain many of the same amino acids as red meat. They're rich in minerals such as copper, manganese and zinc and are a good source of vitamins B5, B6, and D. Fifteen grams of dried shiitakes (about 4) will give you 6% of your daily vitamin D requirements.  
Instructions
In a large frying pan or wide pot over medium flame, heat 2 tablespoons of the olive oil, and sauté the onion for about 8 minutes, until translucent. Add the garlic and cook for 1-2 more minutes.

Add the mushrooms and dried herbs, stir to combine, and add 1/4 cup of water. Lower the heat and cook covered for about 10 minutes. Shiitake don't release much water so check the liquid content and add a little more water if needed.

Add the tomato paste and stir all together it for a few minutes.

Add the balsamic vinegar, remaining olive oil, and tomatoes, and stir to combine.

Bring back to a simmer and continue to cook the sauce while making the pasta.

Cook the pasta following the package instructions. Reserve ½ to ¾ cup of the cooking water before draining. Drain the pasta and add it to the frying pan or pot. Cook for a few minutes while mixing in the reserved pasta liquid and serve immediately.