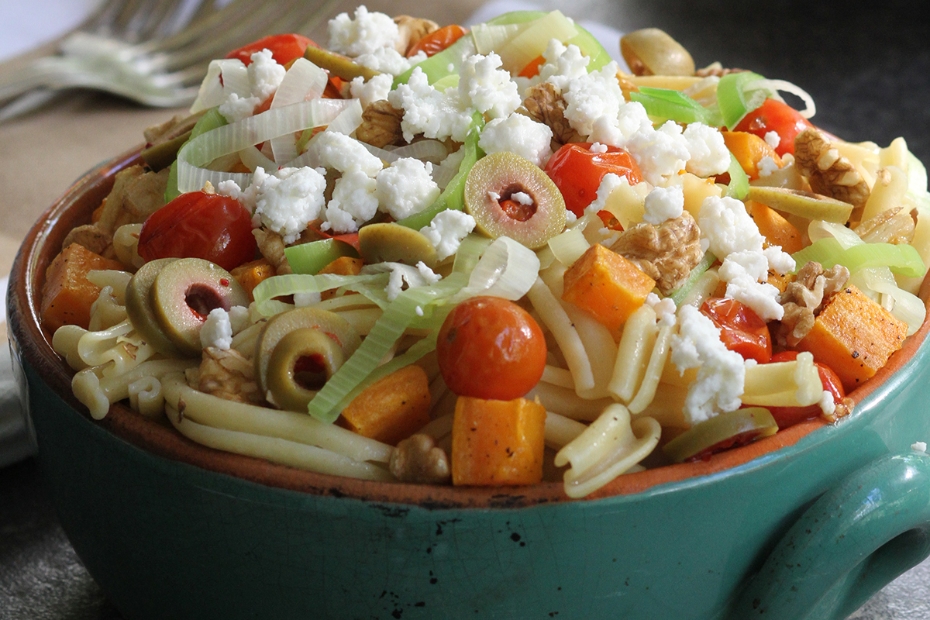 Pasta with Butternut Squash, Olives, Tomatoes, and Leeks
---
I love butternut squash and use it even to dress up a simple pasta dish, with lost of other veggies, Greek olives, feta, walnuts and Greek olive oils and balsamic. To find some of the artisinal Greek products you'll need to make this, visit my online shop
here
, where you'll discover a host of lovingly curated Greek ingredients.
Ingredients
1

2-pound butternut or kabocha squash, peeled, seeded and cut into 3/4-inch cubes

1

large red onion

cut into 1/2-inch cubes

1

leek

trimmed and cut into thin rings

4

garlic cloves

peeled and sliced

4

tablespoons

Vrisi 36 oregano-essence Greek extra virgin olive oil

3

tablespoons

Vrisi 36 Balsamic Vinegar

2

tablespoons

Vrisi36 BOLD extra-virgin Greek olive oil

1

cup

teardrop or cherry tomatoes

Kosher or sea salt and freshly ground black pepper to taste

1

pound

casarecci

schioufichta in Greek! or penne pasta

1 1/2

cups

12 ounces crumbled Greek feta cheese

1

cup

coarsely chopped walnuts

toasted*

½

cup

sliced green or pimento-stuffed green olives

½

packed cup chopped fresh oregano or dill leaves
Instructions
Put an oven rack in the upper third of the oven. Preheat the oven to 425 degrees F / 200C.

Line a large baking sheet with parchment paper.

In a large bowl, toss the butternut squash cubes, onion, leek, and two of the garlic cloves together with the oregano-essence olive oil, salt, pepper, and 2 tablespoons of balsamic. Spread evenly in one layer on the baking sheet. Bake for about 35 to 40 minutes, or until the squash is soft but not so mushy that it collapses. Using a wooden spoon or spatula, toss the mixture occasionally as it bakes to keep the onions, garlic and leeks from burning. Remove and set aside to cool.

While the squash mixture is roasting, heat the BOLD olive oil in a large frying pan and add the tomatoes, whole. Season with salt, pepper and sear over high heat until the tomato skins start to crinkle and brown lightly. Stir in the remaining 2 chopped garlic cloves and toss with one tablespoon of balsamic. Don't let the garlic burn. Remove from heat and cover to keep warm.

While the squash mixture is cooling, bring a large pot of salted water to a boil over high heat. Add the pasta and cook until tender but still firm to the bite, stirring occasionally, about 8 to 10 minutes.

Drain and reserve about 2 cups of the pasta water.

Put the pasta, ¾ cup of the crumbled feta and 1 cup of pasta water in a large serving bowl. Toss until the cheese has melted and forms a creamy sauce. Add the butternut squash mixture, the walnuts, olives, and fresh oregano.

Toss well and season with salt and pepper, to taste. Garnish with remaining crumbled feta and serve.
Love vegetables? Want to learn more great plant-based Mediterranean dishes? Enroll in my online  class "Baked Vegetable Classics!" 
Notes
*To toast the walnuts, arrange them in a single layer in a nonstick or cast-iron frying pan and cook over medium heat, shaking the pan back and forth, for about 6 minutes, until lightly browned and aromatic. Cool completely before using.