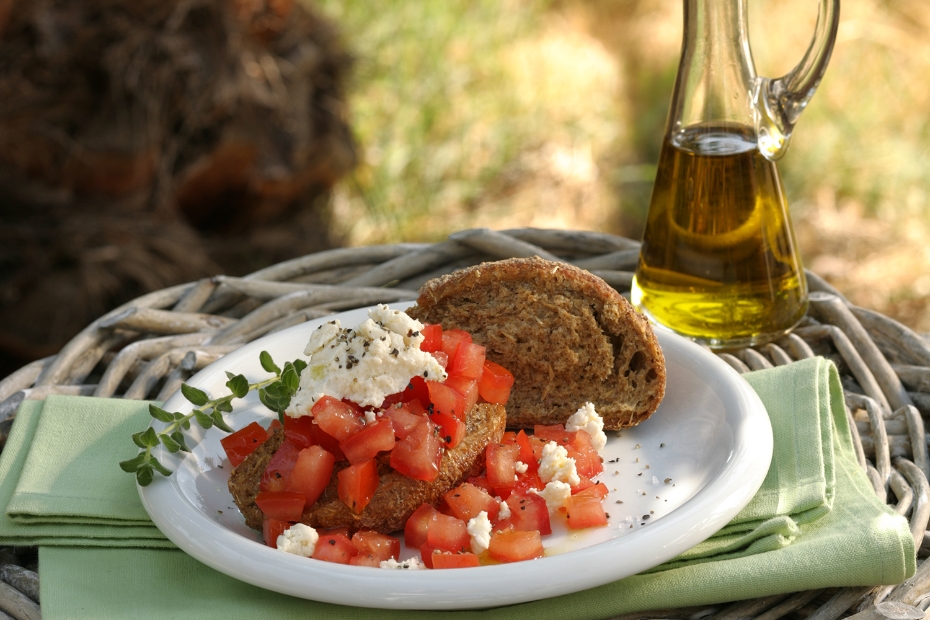 Mykonos Barley Rusk and Tomato Salad
---
Mostra has come to be a word synonymous with rusk (paximadia) in the Mykonos dialect but it originally referred to a unit of measure for rusks, one mostra being one rusk. The word comes from the Italian mostrare, which means to show, and from the Latin monstrare, which means "to show, to indicate." You can find delicous Greek rusks with barley and an old variety of wheat called dikoko or zea, low in gluten, as well as an array of other lovingly curated Greek ingredients on my online store
here
.
Ingredients
2

Greek-style barley rusks

3

Tbsp.

Mykonos Kopanisti cheese or any sharp

soft, pungent cheese, preferably goat's milk

1

firm

ripe tomato, seeded and diced

2

tsp.

extra virgin olive oil
Dried oregano

optional
Instructions
Soften the rusks by running them under a little tap water, but do not soak them. Drain the excess water off.

Place the rusks on a plate and top with the kopanisti cheese and diced tomato. Drizzle with olive oil, sprinkle with oregano, and serve.
Love vegetables? Want to learn more great plant-based Mediterranean dishes? Enroll in my online  class "Baked Vegetable Classics!" 
Notes
Barley rusks may be found in Greek and Middle Eastern markets.