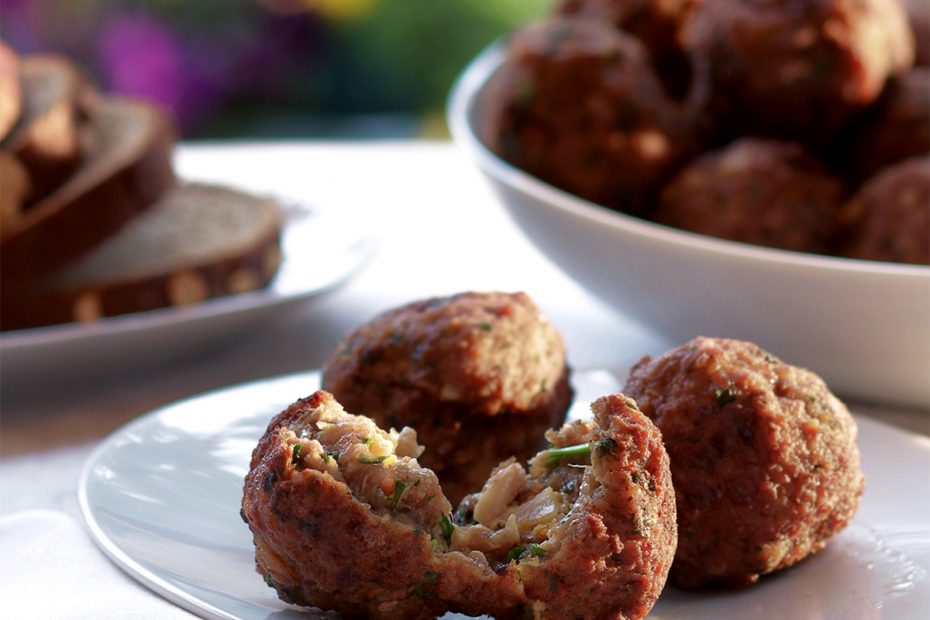 Corfu Style Stuffed Meatballs
---
Curry in Greek meatballs, as this recipe calls for? Yes, if it's from the Ionian islands, where British denizens and occupiers, influenced by the Raj, one lived in droves! This is a lovely, unusual variation on Greek meatballs. To find some of the artisinal Greek products you'll need to make this, visit my online shop
here
, where you'll discover a host of lovingly curated Greek ingredients.
Ingredients
1

pound

/ 500g finely ground beef or mixture of beef and pork

1

large egg

slightly beaten

½

cup

fresh parsley

finely chopped

½

cup

grated hard yellow cheese

such as Greek kefalotyri or pecorino

2

large hard-boiled eggs

peeled and finely chopped

3

salted anchovies

chopped

2

slices

bacon

finely chopped

1

scant tablespoon curry powder

All-purpose flour

for dredging

Olive or other vegetable oil

for frying
For sauce, optional
1

cup

dry red wine

1

cup

finely chopped tomatoes

peeled and seeded (or canned)

1

teaspoon

sugar
Instructions
Place the minced meat, olive oil, egg, parsley, cheese and salt in a medium-sized bowl and knead until well combined. Cover the mixture and leave in the refrigerator for an hour.

In a small bowl, crush the hard-boiled eggs with a fork and mix with the anchovies, the bacon and the curry until they form a paste.

Take the meat mixture out of the refrigerator. Take a heaping tablespoon of the meat mixture at a time and shape the meatballs. Using your thumb, make a hollow in the center of each ball and fill it with a little of the anchovy and egg mixture. Press the hollow shut. Continue until all the meat and filling are finished.

Spread a cup of flour on a plate and roll the polpetes in it, shaking off the excess flour at the end. In the meantime, heat about 1 in / 2.5cm of oil in a big, heavy frying pan on medium to high heat, then fry the polpetes well on all sides. Remove them from the frying pan with a slotted spoon and drain them on paper towels. Replenish the oil as needed during the frying process, making sure it is always hot before you put the polpetes in.

Make a sauce for the meatballs, optional: Strain the hot oil and pour part of it, about ½ cup, back into the frying pan. You can also use fresh oil if you want, especially if the oil that is left after frying has begun to smell of burnt flour. Heat the oil on a medium fire, then add the wine, the tomatoes and the sugar to the frying pan. Once it comes to a boil/simmer, put the meatballs back in the frying pan, lower the heat to very low and cook in the sauce for 10 minutes.

Serve the meatballs, hot or room temperature, with plenty of fresh bread.