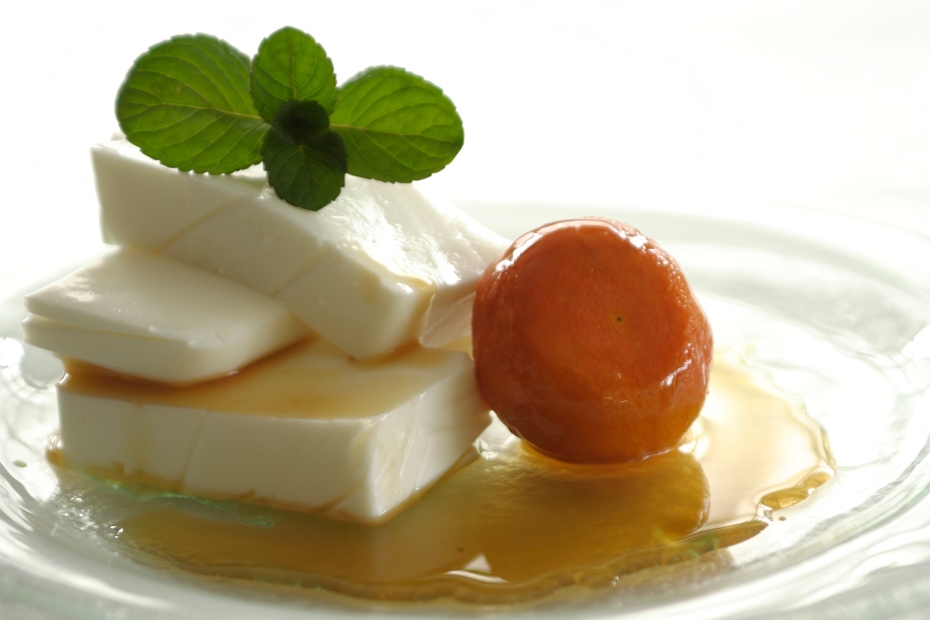 Mastiha Pana Cotta with Chios Mandarin Spoon Sweet
---
If you can't find this rare, delicious spoon sweet, you can top the panna cotta with any Greek spoon sweet, called glyka tou koutaliou, which you can find, together with a lovingly curated array of Greek ingredients on my online store
here
.citrus-flavored Greek fruit preserve or with fresh fruit and a drizzling of honey.
Ingredients
2

cups

milk

1

cup

heavy cream

3-4

drops Mastiha essential oil

Strips of zest from one lemon

4

tsp.

powdered unflavored gelatin

½

cup

sugar

12-18

tsp.

Chios mandarin spoon sweet

4

Tbsp.

Greek honey or Mastiha-flavored honey
Instructions
1. Combine 2 ¾ cups of the milk, cream, Mastiha, and zest in a medium saucepan and heat, covered, until the liquid comes to a boil. Remove from heat and let the mixture stand for one hour.

2. Sprinkle the powdered gelatin over the remaining quarter cup of milk to soften.

3. Bring the milk-cream mixture back to a boil and remove from heat. Pour in the gelatin mixture and the sugar and whisk until smooth. Strain into a pitcher. Pour the panna cotta mixture into six 1/2 –cup ramekins and chill until set, for at least two hours.

4. To serve: Run a knife around each of the ramekins to loosen the panna cotta and invert onto a serving plate. Top with 2-3 teaspoons of the Chios mandarin spoon sweet and drizzle with a little honey. Serve immediately.