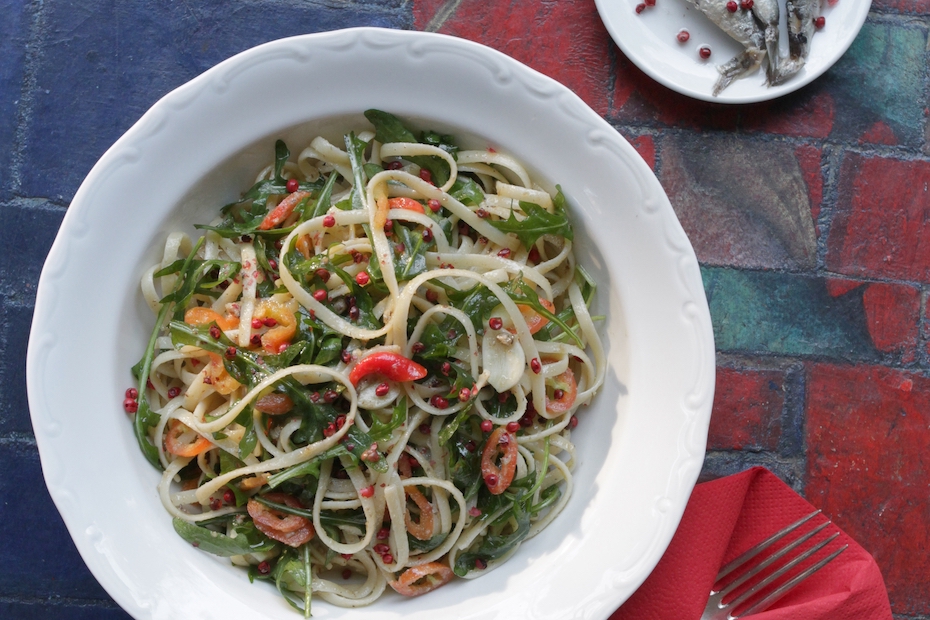 Linguine with Arugula, Chilli Peppers, Anchovies & Greek Olive Oil
---
Ingredients
Linguine with Arugula

Chili Peppers, and Anchovies

6

tablespoons

extra virgin Greek olive oil

1

fresh red or green chili pepper

seeded and sliced into thin rounds or 1 – 2 teaspoons hot pepper flakes or Greek boukovo

2

garlic cloves

thinly sliced

1

pound

linguine

regular or whole wheat

2

bunches fresh baby arugula

trimmed

½

cup

anchovy fillets in brine or olive oil

rinsed and drained, or 1 cup filleted Greek "gavros" xidatos (Greek anchovies in brine) or Spanish boccherones

1

teaspoon

grated lemon zest
Instructions
Heat 2 tablespoons olive oil in a small, heavy frying pan over medium-low heat and cook the garlic and chili pepper until soft, about 5 minutes, stirring occasionally.

Bring a large pot of water to a rolling boil and add a tablespoon of salt. Cook the pasta to al dente and drain, reserving 4 tablespoons of the cooking liquid.

While the pasta is boiling, rough-chop the anchovies.

Combine the steaming hot pasta, remaining olive oil, oil-garlic-chili-pepper combination, arugula and anchovies. Add the lemon zest, adjust seasoning with additional salt, pepper and pepper flakes and serve.
Want to learn more about Ikaria Longevity Cooking? Sign up for my online class bundle "Everything Ikaria 101!"
Love vegetables? Want to learn more great plant-based Mediterranean dishes? Enroll in my online  class "Baked Vegetable Classics!"