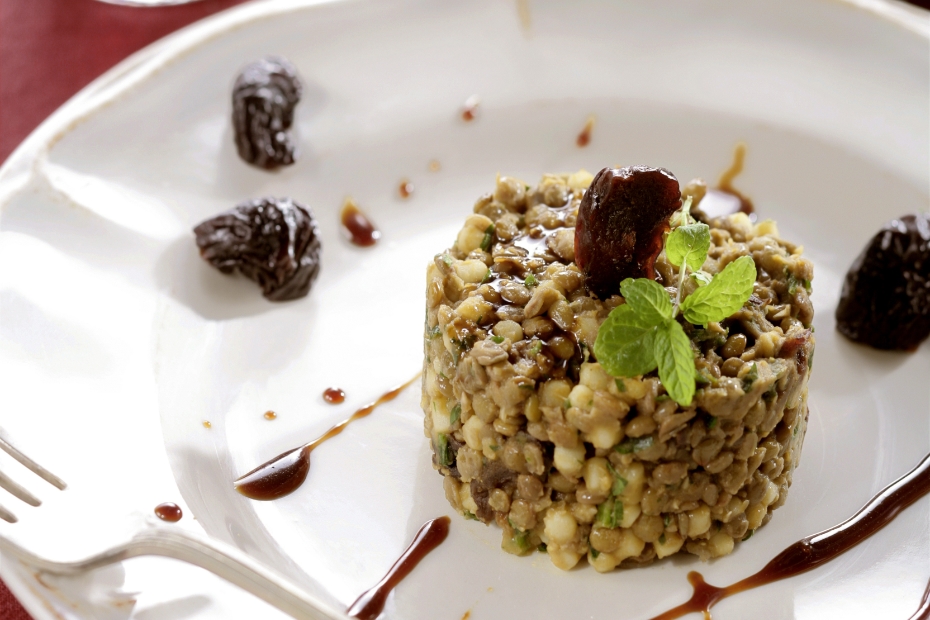 Lentil-Pasta Terrine with Cumin and Prunes
---
Here is a twist on a very old and traditional Greek dish. Lentils are cooked with pasta, bulgur or rice in the Greek country kitchen. This dish is spruced up with a tiny Greek pasta called kouskousi, and spiced with prunes or other dried fruit, cumin and more.
Ingredients
1 1/2

cups

small lentils

1

bay leaf

¾

cup

Greek koukousi or small orzo pasta

1

small red onion

finely chopped

1

garlic clove

minced

1

scant teaspoon ground cumin

½

teaspoon

ground coriander

½

teaspoon

ground turmeric

½

cup

chopped or julienned fresh mint leaves

6

large

pitted prunes, chopped

1

tablespoon

Balsamic vinegar

4

teaspoons

balsamic reduction or balsamic syrup for serving*

* To make the balsamic reduction

place 1 cup of balsamic in a small saucepan together with ½ cup sugar. Bring to a simmer and continue to simmer over low heat until the liquid is reduced by at least half and is the consistency of syrup. Keep in a small jar in a cool, dry place.
Instructions
Place the lentils in a medium size pot with enough water to cover by at least two inches and the bay leaf. Bring to a boil, reduce heat and simmer for about 20 – 25 minutes, or until the lentils are tender but al dente.

While the lentils are boiling, bring a pot of salted water to a boil and cook the pasta. Drain and toss with 1 tablespoon of olive oil.

Heat 2 tablespoons olive oil in a medium, nonstick skillet and sauté the onions until soft and lightly caramelized, about 12 – 15 minutes. Add the garlic and spices to the onions, and stir for half a minutes. Remove from heat.

Drain the lentils. Toss the lentils, pasta, onion-garlic-spice mixture, mint and prunes together in a mixing bowl. Add the remaining olive oil and balsamic vinegar. Season to taste with salt and pepper. Let stand for 20 minutes before serving. To serve, press into a ring mold or cup and invert onto individual plates. Drizzle with the balsamic reduction and serve.