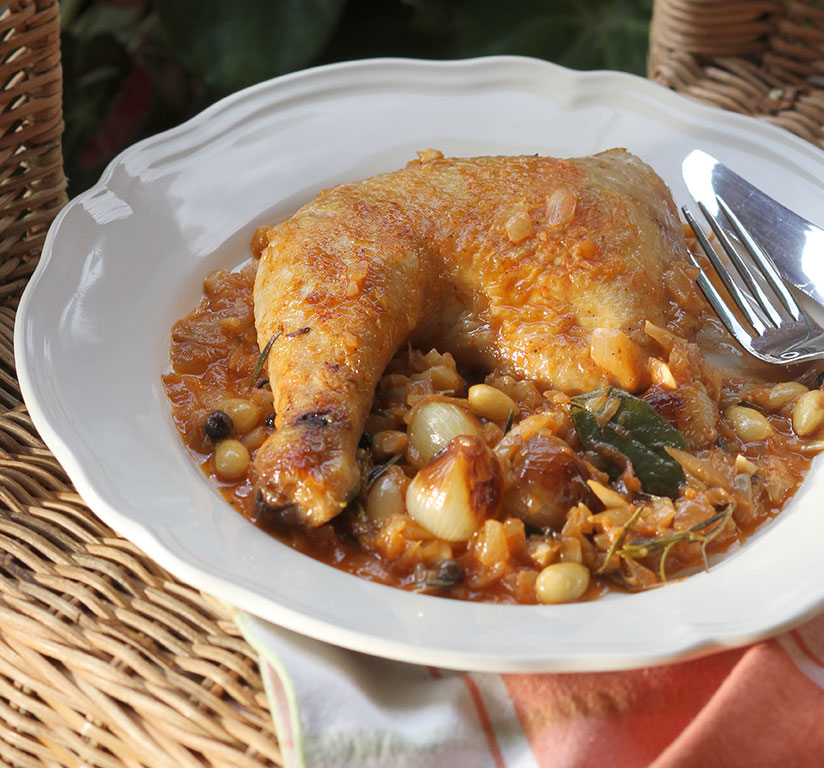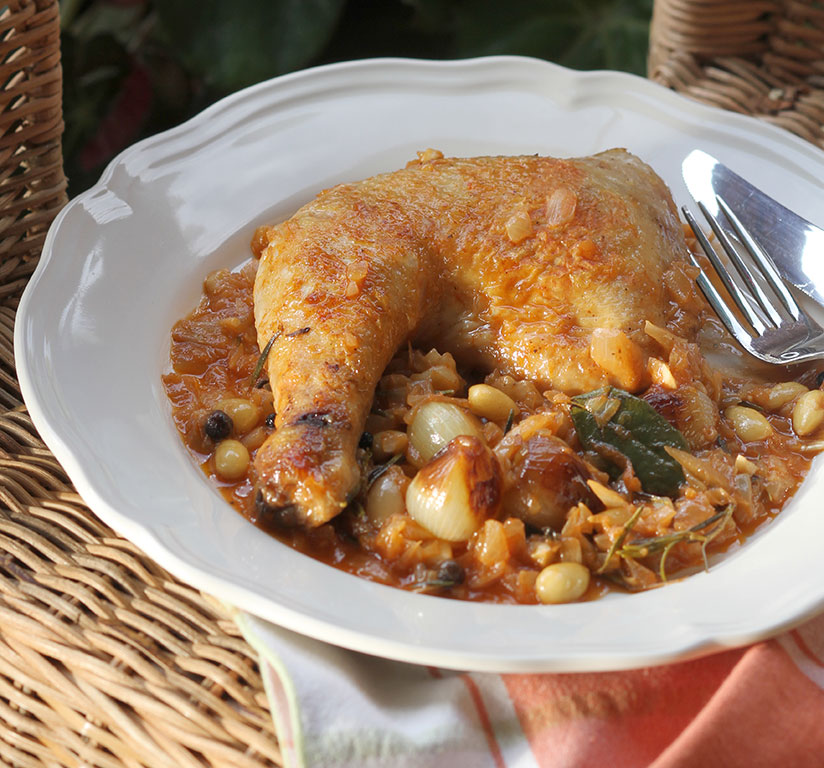 Ikaria-Style Chicken Braised in Wine - Stifado
2016-01-13 10:04:18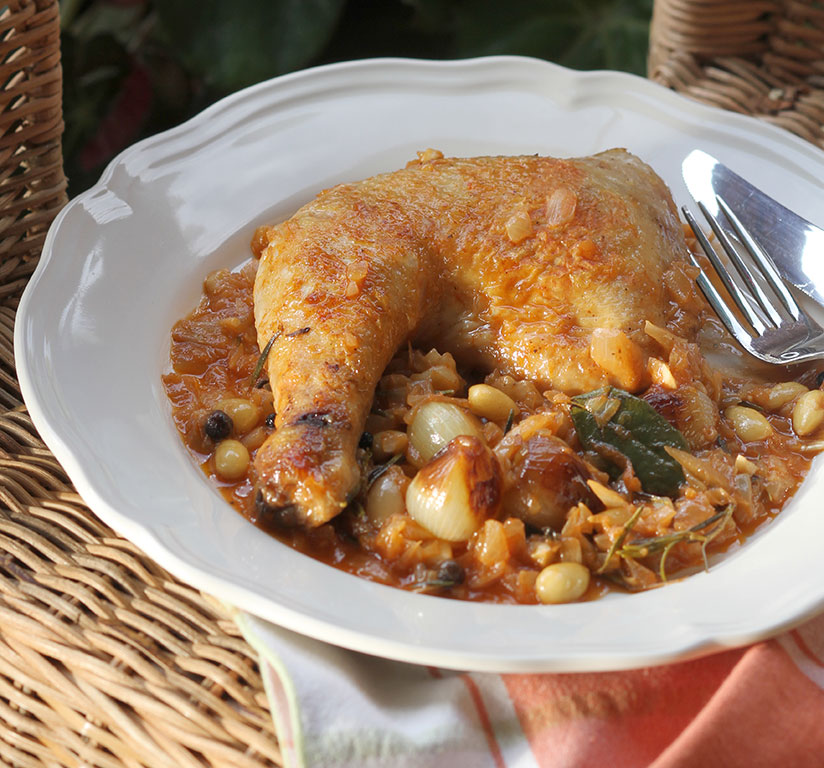 Serves 4
The door to my kitchen on Ikaria opens up onto our little stone terrace and a few years ago Vassili planted an herb bed in a dirt patch he left unpaved right in the middle, under a trellis of grapes and between a few very old almond trees. We've planted rosemary, sage, mints, lavender, oregano, thyme, and, every spring, replenish with all the perennials: different varieties of basil, parsley, cilantro, chives, lemon balm and more. All of these find their way into my cooking. I get inspired by the absolute freshness and immediacy of ingredients on Ikaria, the fresh-cut herbs, the chicken that strutted in my neighbor Titika's coop until she brought some of it over for me to cook for the kids, by the onions we pick out of the ground and that are so peppery and sharp you want to cry before you even unpeel them! This is real food, the ultimate locavore diet! But that's not to say that with good quality seasonal ingredients, you can't recreate this and other dishes no matter where you are.
Ingredients
½ cup plus 2 tablespoons extra virgin Greek olive oil
4 chicken thighs, skinned
1 large red onion, finely chopped
2 garlic cloves, finely chopped
12 small whole onions, such as pearl or cipollini, peeled
1 ½ cups semisweet white or rosé wine
1 tablespoon tomato paste, preferably from sun-dried tomatoes
2 bay leaves
1 rosemary sprig
4-5 thyme sprigs
2-3 fresh sage leaves
4-5 fresh marjoram, oregano or savory sprigs
3-4 allspice berries
6-7 whole peppercorns
1 cinnamon stick
1 cup fresh almonds, blanched, optional
Sea salt and pepper to taste
2-3 tablespoons red wine, sherry or balsamic vinegar, to taste
Instructions
Heat the olive oil in a large wide pot or Dutch oven over medium heat. Place the chicken in the pot, top side down, and brown. Using kitchen tongs, carefully turn to brown on the other side, too, for a total of about 10-15 minutes. Transfer the chicken to a plate and drain off all but 2 tablespoons of fat from the pot.
Add the chopped onions and cook until wilted, about 10 minutes. Stir in the garlic.
Season the chicken with salt and pepper and place back in the pot. Pour in the wine. Add all the herbs as well as the allspice berries, peppercorns and cinnamon.
Dilute the tomato paste with 1-2 tablespoons of water and add to the pot. Add enough water to come about halfway up the chicken pieces (there might already be enough liquid in the pot so this may not be necessary). Season with salt and pepper. Cover the pot, reduce heat, and simmer the chicken for about 50 – 60 minutes, or until falling-off-the-bone tender.
While the chicken is simmering, heat the remaining two tablespoons of olive oil in a large, heavy skillet and cook the whole onions, covered, over low heat until the caramelize lightly.
Twenty minutes before removing the chicken from heat, gently stir in the whole onions and the almonds.
Notes
Potatoes fried in olive oil are the dish to serve with this as an accompaniment.
Variation: This same recipe, with or without the almonds, which are my addition, may also be made with rabbit.
Adapted from Ikaria: Lessons on Food, Life & Longevity from the Greek Island Where People Forget to Die
Adapted from Ikaria: Lessons on Food, Life & Longevity from the Greek Island Where People Forget to Die
Greek Food - Greek Cooking - Greek Recipes by Diane Kochilas //www.dianekochilas.com/