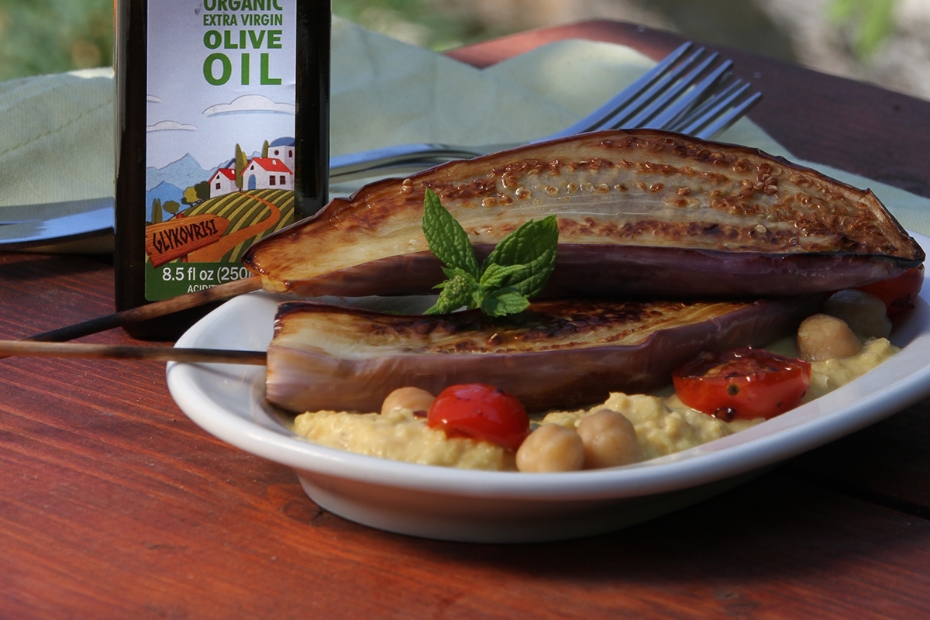 Marinated Grilled Eggplant Skewers with Hummus
---
Imagine eggplant lollipops, all tangy and sweet with Greek balsamic vinegar, served over spicy, sating hummus. This dish is great for a Saturday lunch, for a party, and as a fun way to introduce kids to vegetables and legumes. To find some of the artisinal Greek products you'll need to make this, visit my online shop
here
, where you'll discover a host of lovingly curated Greek ingredients.
Ingredients
For the Hummus
2

cups

boiled or canned chickpeas

½

cup

tahini

½

cup

water

3

– 4 garlic cloves

to taste, finely chopped

1

scant teaspoon cumin powder

Several drops of hot sauce

or more, to taste

3

tablespoons

fresh

strained lemon juice

2

tablespoons

Vrisi 36 balsamic vinegar

¼ - 1/3

cup

Vrisi 36 "Bold" extra virgin Greek olive oil
For the Eggplant
2

medium eggplants

trimmed and peeled

½ - 2/3

cup

Vrisi 36 extra virgin Greek olive oil of choice

3

tablespoons

Vrisi 36 balsamic vinegar

Salt

pepper to taste

2

garlic cloves

cut into slivers

6

– 12 cherry tomatoes

stems removed

Vrisi 36 oregano essence extra virgin Greek olive oil
Instructions
Drain the chickpeas. Puree the chickpeas and garlic in a food processor until mealy but almost smooth. Add the tahini, water, salt and pepper to taste. Season to taste with cumin and hot sauce, and pulse. Slowly add the lemon juice, vinegar and olive oil, alternating between each, pulsing on and off, and tasting as you go, until desired flavor is reached. Transfer the hummus to a bowl and keep covered and refrigerated until ready to use. The hummus may be made a day or two ahead of time and stored in the fridge. Remove the hummus from the refrigerator 45 minutes before serving. Ideally, it should be at room temperature.

Peel the eggplant and cut into wedges lengthwise. The wedges should be about 1 ¼-inches / 3 cm wide. Marinate the eggplant wedges in the olive oil, vinegar, salt, pepper, and garlic for 20 minutes at room temperature.

In the meantime, preheat the broiler or grill.

Skewer the eggplant wedges and broil or grill 8 inches / 20 cm from heat source, until tender and golden brown.

While the eggplant skewers are cooking, heat a nonstick skillet and the oregano essence olive oil. Add the cherry tomatoes and sear on high heat until the skins wrinkle and brown slightly. Season to taste with salt and pepper. You can drizzle in a little Vrisi 36 Balsamic Vinegar if desired.

To plate: Serve the hummus and top with the skewered, broiled or grilled marinated eggplant wedges. Garnish with the seared cherry tomatoes.
Love vegetables? Want to learn more great plant-based Mediterranean dishes? Enroll in my online  class "Baked Vegetable Classics!"