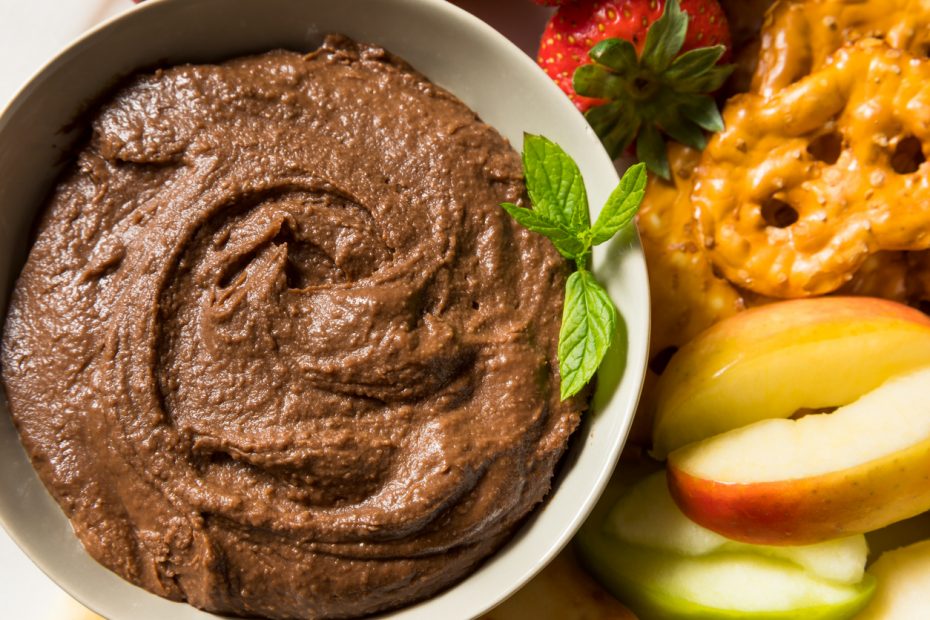 DESSERT HUMMUS WITH CHOCOLATE
---
A Little Hummus History The earliest mention of tahini is in a 13th-century Arabic cookbook, which mentions hommos al tahini. Hummus means chickpeas in Arabic. Hummus is arguably one of the world's most versatile recipes; in its purest form (chickpeas, tahini, lemon juice, garlic) it's everything from a perfect dip for bread or vegetables to a great topping or side dish with just about everything, from grilled or fried eggplant and zucchini to stuffed vegetables, even pasta. In the last decade, the hummus shelf has exploded. Beyond being highly nutritious (chickpeas are a great source of dietary fiber, plant-based protein, and minerals), hummus as a concept is highly versatile. We find it in countless iterations. After seeing chocolate hummus on supermarket shelves in the United States, I decided to try my hand at making my own version of it, using only the best and healthiest ingredients. This chocolate hummus is a great breakfast spread (try it on bananas!) and a wonderful snack. PS - Try making this with one of our regional extra virgin Greek olive oils and kinds of honey, and with the dark organic tahini sold in my eshop!
Instructions
Combine the chickpeas, cocoa powder, honey, olive oil, salt, orange zest, and vanilla in the bowl of a food processor and process on high speed until very creamy and smooth.

Add a little water if needed to loosen the mixture and make it creamier.