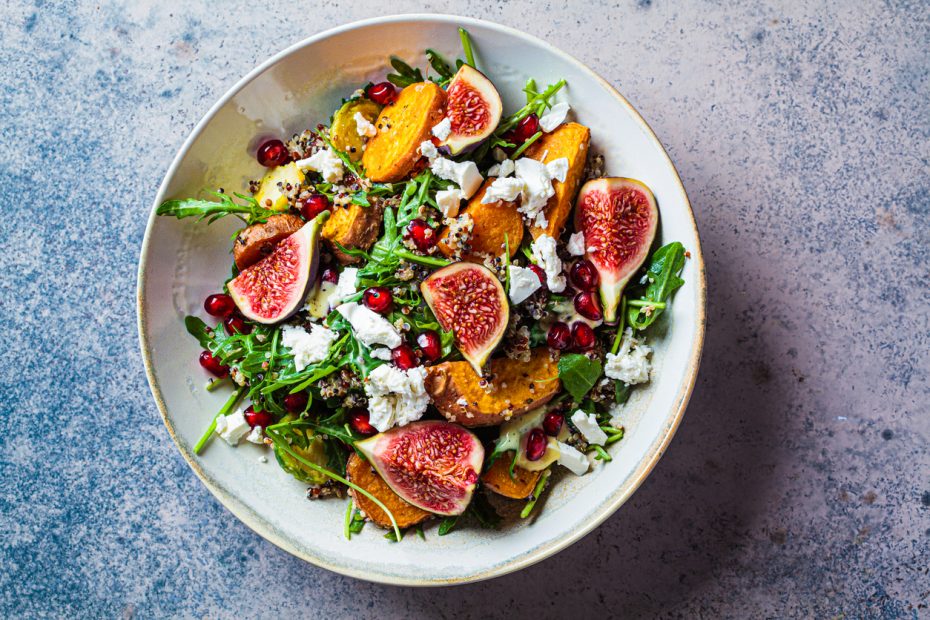 Greek Salad with Figs, Tomatoes, Olives, Feta and Arugula
---
Greek salads go far beyond the classic warm-weather Mediterranean diet ingredients of tomatoes, peppers, and cucumbers. Indeed, a Greek salad can contain almost anything, so long as it's seasonal. This Greek salad is a great example of how the change of seasons is mirrored in almost every Greek recipe. The segue from summer to fall is one of the most delicious in Greece. The last figs dangle from fig trees, grape clusters glimmer in the sun, the tomato plants are mangy but in the throes of their heroic efforts to push out the last of their ruby-red fruits. Olive trees are usually heavy with fruit in September, albeit still unripe. The strange geometry of pumpkins, defying gravity as they hang so seemingly precariously from their vines is everywhere in sight, at least on Ikaria, where I usually spend the early part of the fall. This salad is a paean to the season's glories, sans pumpkin and with the addition of feta cheese, red onions and Greek feta! Oh yes, and no small amount of extra virgin Greek olive oil for the dressing.
Ingredients
2

ripe

firm figs, trimmed and quartered lengthwise

16

large cherry or small plum tomatoes

halved lengthwise

1

small red onion

peeled, halved and sliced

12

green olives

such as Greek tsakistes, preferably pitted

2

bunches arugula

trimmed

1

cup

cubed Greek feta

3

tablespoons

coarsely chopped walnuts

5

– 6 tablespoons extra virgin Greek olive oil

1

tablespoon

good balsamic

1

teaspoon

petimezi

Pinch

of coarsely ground black pepper
Instructions
Combine the arugula, onion, olives, and tomatoes in a serving bowl. Toss gently to combine.

Place the feta, fig slices, olives and walnuts around and on top of them.

Whisk together the balsamic, petimezi, salt and pepper and pour over the salad. Toss at the table. Enjoy!
Want to learn more easy, healthy Mediterranean diet recipes? Sign up for my online course "Mastering the Mediterranean!"