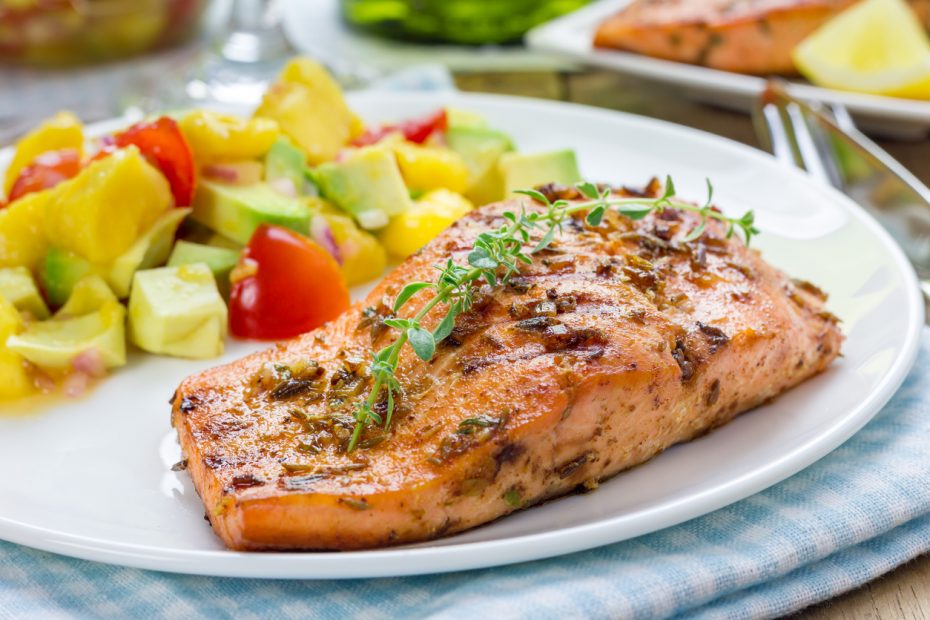 Grec-Mex Salmon with Avocado-Tomato Greek Salad
---
Salmon and mangoes might seem like an odd combo, but this Grec-Mex inspired recipe is a star! The salsa that accompanies the salmon is both beautiful and nutritious. And, remember, salmon -- always try to look for wild salmon -- is one of the best sources of Omega 3 fatty acids. FIsh is a cornerstone of the Mediterranean diet and this Greek fish recipe with a Grec-Mex touch will have you clamoring for more. As for the mangoes and avocados, neither are native to the Mediterranean but both pair beautifully with the healthy, fruit- and vegetable-rich Mediterranean diet. Enjoy!
Ingredients
3

Tbsp

extra virgin Greek olive oil

4

6-ounce salmon fillets,

preferably wild

Salt and ground black pepper

1

tsp

dried Greek oregano

1

tsp

dried Greek thyme

4

sprigs of fresh oregano

1

mango - peeled

seeded and diced

1

ripe avocado - peeled

pitted, and diced

4

medium plum tomatoes

diced

1

jalapeno or red bell pepper

seeded and minced

½

cup

chopped fresh cilantro or parsley

3

cloves

garlic,

minced

2

Tbsp

fresh lime or lemon juice

¼

cup

chopped red onion

3

Tbsp

olive oil

Sea salt and freshly ground pepper

to taste
Instructions
Prepare the garnish - salsa first so that the flavors have time to develop: In a medium bowl, combine the mango, avocado, tomatoes, jalapeno or bell pepper, cilantro or parsley, and garlic. Stir in the salt, lime or lemon juice, red onion, and olive oil. Refrigerate, covered, for about 30 minutes before serving.

Preheat oven to 400 F / 220 C. Season salmon with salt and pepper and sprinkle with the dried herbs. Place salmon, skin side down, on a non-stick baking sheet or in a non-stick pan with an oven-proof handle. Bake until salmon is cooked through, about 12 to 15 minutes.

Garnish salmon with fresh oregano and serve with the mango-avocado-tomato salsa.
Want to learn more easy, healthy Mediterranean diet recipes? Sign up for my online course "Mastering the Mediterranean!"
Want to learn more easy, healthy Mediterranean diet recipes? Sign up for my online course "Mastering the Mediterranean!"