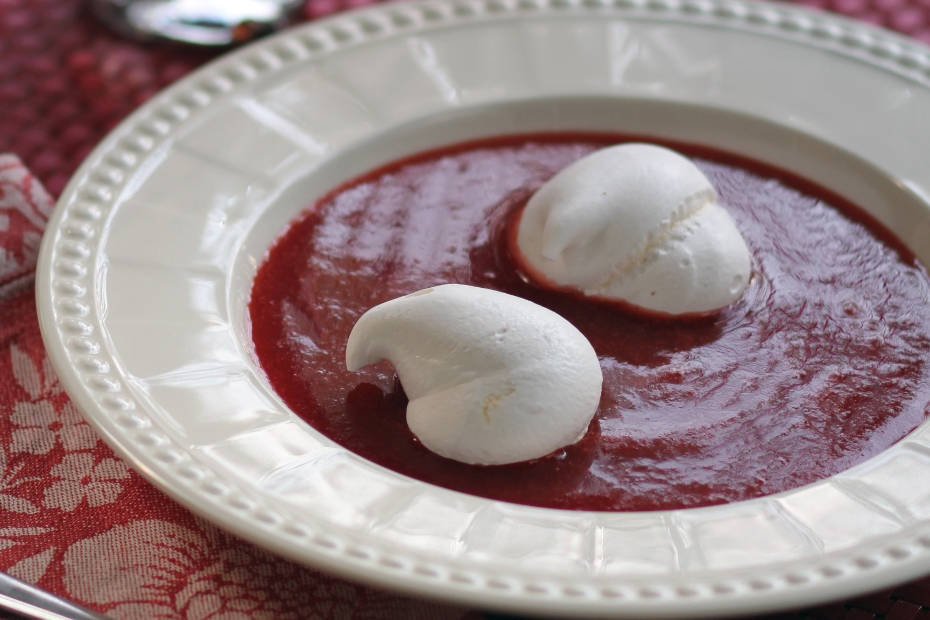 Floating Greek Island in a Wine-Dark Sea
---
If you can't take your love to a real Greek island, you can surely enjoy a floating one in a strawberry and wine-dark sea! To find some of the artisinal Greek products you'll need to make this, visit my online shop
here
, where you'll discover a host of lovingly curated Greek ingredients.
Ingredients
Floating Greek Island in a Wine-Dark Sea

3

cups

frozen and thawed or fresh

trimmed strawberries, quartered or coarsely chopped

3

tablespoons

sugar

or more, to taste

2

tablespoons

Greek honey

½

cup

red wine

2

tablespoons

fresh

strained lemon juice

2 1/2

ounces

/ 75 g dark chocolate

4

small meringues*

Mint and 2 fresh strawberries for garnish
Instructions
Combine the strawberries, sugar and wine in a medium saucepan and bring to a simmer. Cook until the sugar is dissolved and the alcohol cooked off.

Using a submersion blender, puree the soup. Chill thoroughly.

When ready to serve, melt the chocolate in a small double boiler. Ladle the soup into serving bowls. Place 2 meringues inside each soup bowl. Drizzle with the melted chocolate and garnish with a strawberry and a few mint sprigs. Serve.
Notes
• It's obviously a lot easier to buy ready-made meringues. If you opt to make them yourself, here's how: You'll need 2 large egg whites, 4 oz sugar and a pinch of salt. Preheat oven to 280F/140C. Line two sheet pans with parchment paper. Place the egg whites and salt in the bowl of an electric mixer and whisk at low speed for 1 minutes. Increase the speed to medium and continue whisking another 2 – 3 minutes, or until the whites form stiff peaks. Continue whisking, adding a tablespoon at a time of the sugar until the whites are very stiff and glossy, about 5 – 8 minutes. Take a heaping spoonful at a time of the whipped whites and drop them at intervals of 2 inches into the baking sheets. Bake for 30 – 40 minutes, or until the meringues are dry. Turn off oven, open the oven door, and leave the meringues inside to cool. Store in a cool, dry place.